How A Personal Loan Can Help You Deal With Liquidity Crisis
A personal loan can be use to meet unexpected or unplanned financial needs. Read to know how personal loan can help to deal with financial crisis.
13 Oct,2022
09:57 IST
5 views
3 Likes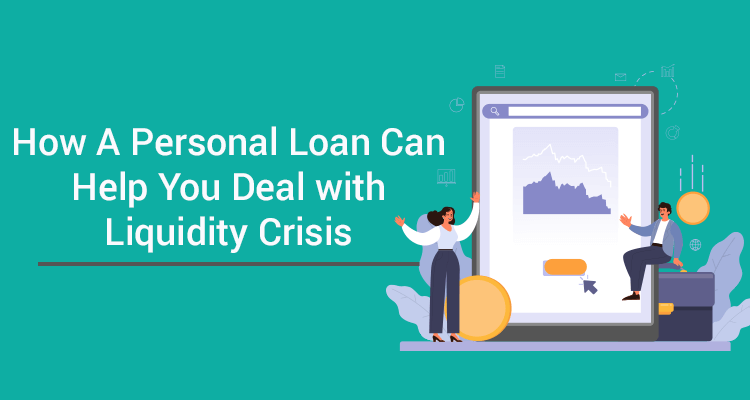 Emergencies can arise from a medical situation, vehicle breakdown, unexpected travel, home repairs, and many more. It can hurt your savings and plunge you into a financial crisis. Fortunately, the financial system has made it easy for you to deal with such a liquidity crisis through loans.
This article explains how a personal loan can help you deal with a liquidity crisis.
What Is A Personal Loan?
A personal loan is an unsecured loan that you can borrow from a bank or financial institution without any collateral. You can immediately avail of these loans and use them to meet your financial obligations with no prerequisites. You can use it to refinance old loans, consolidate debt, renovate your home, travel, improve your credit score, and more. Unlike other secured loans, you can use the funds according to your needs.
How Can Personal Loans Help You In A Liquidity Crisis?
Personal loans can help you fulfil your unexpected expenses and act as financial leverage beyond your earnings. A personal loan can help you in a liquidity crisis in the following ways.
1. Easy Accessibility:
Typically, the loan application is straightforward and 100% online. Since it is an unsecured loan, you do not need to submit any asset as collateral.
2. Instant Approval:
If you meet the essential eligibility criteria, financial institutions approve personal loans quickly after the application submission.
3. Competitive Interest Rates:
Since the emergence of several banks and NBFCs ready to provide personal loans, borrowers can expect to get a competitive interest rate.
4. Flexible Repayment Plans:
Paying off high loan EMIs can become a burden more than a solution. Most financial institutions offer repayment options that allow customers to choose the best fit according to their financial situation. These smart repayment schedules make personal loans an attractive option for borrowers, giving them more control over the repayment process.
5. Tax Benefits:
Under section 24(b) of the Income Tax Act, if a borrower avails a personal loan for home renovation or pays a down payment, they are entitled to a tax credit of up to Rs. 2 lakhs.
6. Improves Credit Score:
Another important benefit of personal loans is that they help improve your credit score. Your credit rating isn't a big concern in an emergency, but you need a decent credit rating to get favourable credit in the future. Borrowing and paying it back on time will improve your credit score and help you get back on your feet in the long run.
Frequently Asked Questions
Q.1: What are the documents required for a personal loan?
Ans: The specific documents can vary from lender to lender, but the basic document requirements include the following.
• A valid ID proof (PAN card, Aadhar card, etc.)
• A valid address proof (Aadhar card, electricity bill, rental agreement, etc)
• Income proof (Bank account statement)
Q.2: Can a personal loan improve my credit score?
Ans: Yes, timely repayment of personal loans can help you build and improve your credit score. However, if you fail to do so, it can negatively impact your credit score too.