What Is The Optimum CIBIL Score Required For A Business Loan?
A certain minimum or ideal CIBIL score is necessary in order to avail business loan. Get to know how much cibil score is required for your loan here!
30 Aug,2022
10:13 IST
12 views
19 Likes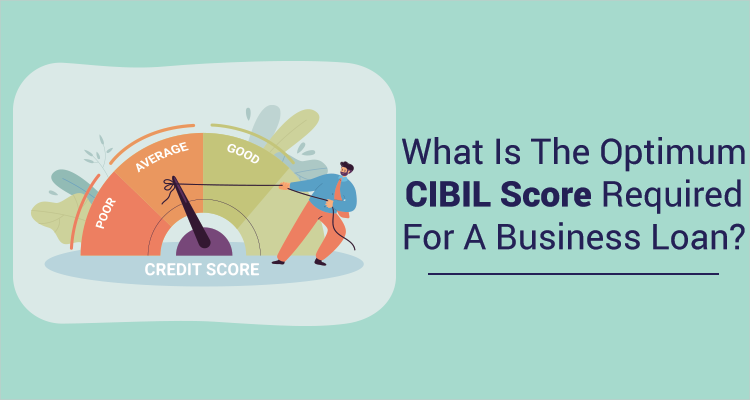 A CIBIL score checks your repayment capabilities and determines whether you qualify for a loan or not. Based on the score, banks and NBFCs state the terms and rates for your loan. This article highlights the optimum CIBIL score required for a business loan.
What is a CIBIL score?
A CIBIL score is a three-digit number derived from the credit history and delivers a report. The score denotes your capacity and repayment intent by examining your credit history. The higher your CIBIL score, the better your chance to qualify for the loan with a favourable term.
Typically, you may consider yourself an entity different from your business. However, lenders do not follow the same principle, especially if you are a small business owner. They evaluate your credit score before approving a loan, even if it differs from a business credit score.
What is the optimum CIBIL score required for a business loan?
CIBIL score ranges from 300-900 in India. Additionally, business loan application procedures can be rigorous for companies with lower scores. The following scores suggest the optimal level for securing a loan for your business:
A Score Above 750:
A CIBIL score of 750+ means you not only qualify for the loan but also get a fair share of negotiating power. You can keep a lower interest rate expectation and an assured longer tenor for the repayment of the principal amount.
A Score Between 650 And 749:
A credit score in this range is good but eliminates the scope of bargaining for a lower interest rate, especially as you reach the 650 mark. It is easier to obtain a loan with a score above 700. If you fall below that score and do not need to take a loan, it is advisable to improve your CIBIL score before applying.
A Score Below 650:
A score below 650 is not the best and is considered poor by financial institutions. A few lenders have criteria that the minimum CIBIL score should be above 650 to apply for a loan.
How To Improve CIBIL Score?
Inculcating good financial habits is the key to improving your CIBIL score. Some of the best financial practices to improve your CIBIL score includes:
Pay your dues on time.
Avoid frequent loans and credit card applications.
Avoid exhausting your entire credit limit. You should ideally utilize only up to 30% of your card's credit limit.
Check on your credit reports regularly.
Frequently Asked Questions
Q.1: What are the factors affecting a CIBIL score?
Ans: There are a few factors that affect your CIBIL score, including payment history, credit mix, loan inquiries, and credit utilization.
Q.2: Does your CIBIL score matter during the application for a business loan?
Ans: Yes. Your CIBIL score is subject to scrutiny while applying for a business loan, especially if you are a small business owner.