What Is The Minimum CIBIL Score Required For Personal Loan?
A certain minimum or ideal CIBIL score is necessary in order to avail personal loan. Get to know how much cibil score is required for your loan here!
29 Aug,2022
11:20 IST
9 views
5 Likes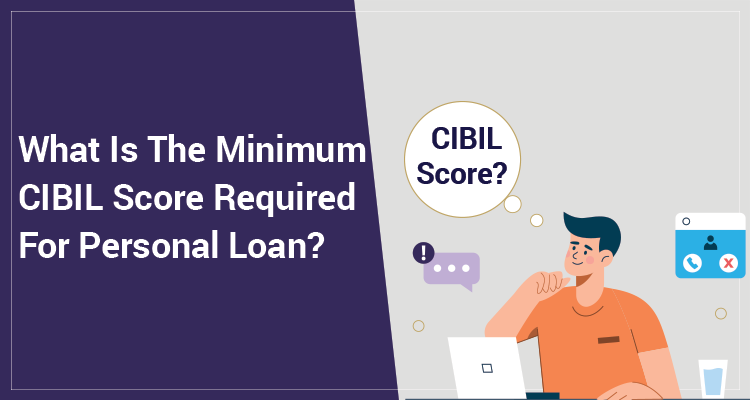 Do you want some extra cash to renovate your home, buy new furniture or expensive electronics, pay for unforeseen medical expenses or even to go on a vacation? If yes, a personal loan is the quickest form of borrowing.
In general, all personal loans are unsecured, meaning these do not require any collateral. The processing time of a personal loan is short and the documentation is minimal.
Most lenders extend personal loans to individuals based on criteria like profession, employment history, repayment capacity, income level and credit history. To check the credit history, lenders look at the CIBIL score of the applicant.
CIBIL Score
A CIBIL score is also called a credit score. It reflects an individual's credit history and is a measurement of the person's ability to pay back a debt.
Being collateral-free, a personal loan is a risky investment for a lender. To reduce the risk to some extent, lenders use an individual's CIBIL score to evaluate if the borrower can repay the borrowed sum on time or not.
The three-digit credit score ranges from 300 to 900. Higher the credit score, the greater are the chances of a lender approving a loan to the applicants.
Good CIBIL Score
Most lenders look for a minimum CIBIL score of 750 to approve personal loans. Borrowers with a score above 750 get loan approval quickly. They also get higher loan amounts as well as the best interest rates and repayment terms.
Prospective borrowers with a score between 700 and 750 also usually manage to get a personal loan easily, though they may have to settle for a lower sum and may not get the best interest rate.
People with a credit score of as low as 650 may also seek a personal loan, but the chances of a lender rejecting the application are higher. Even if a lender approves the loan, the amount would be lower and the interest rate would be much higher.
Poor CIBIL Score
Borrowers with poor credit scores but stable incomes may get personal loans approved by lenders. Applying for a personal loan with a co-applicant or even a guarantor with high credit scores can also work at times.
However, they should look for alternative lending solutions to meet their cash crunch. Side by side, these borrowers should start taking measures to improve their credit score to qualify for loans in the future. One can start by making timely payments of existing loans or finishing off credit card debts.
To avoid missed payments during the loan tenor, it is advisable to set up an autopay feature. Also, such borrowers should not have excessive lines of credit or multiple credit cards.
Conclusion
It is wise to maintain a good CIBIL score for quick approvals of personal loans. A low CIBIL score does not necessarily indicate rejection of a personal loan application. Lenders may sanction loans but at a higher interest rate or a lower amount. But since both the options may not be desirable, the best way is to build a strong credit profile.