Minimum CIBIL Score For Personal Loan You Must Have For A Hassle-free Approval
Lenders would check borrower Cibil score before providing a loan. Read to know about the minimum cibil score required for a hassle-free approval of a personal loan.
3 Nov,2022
10:06 IST
8 Views
4 Likes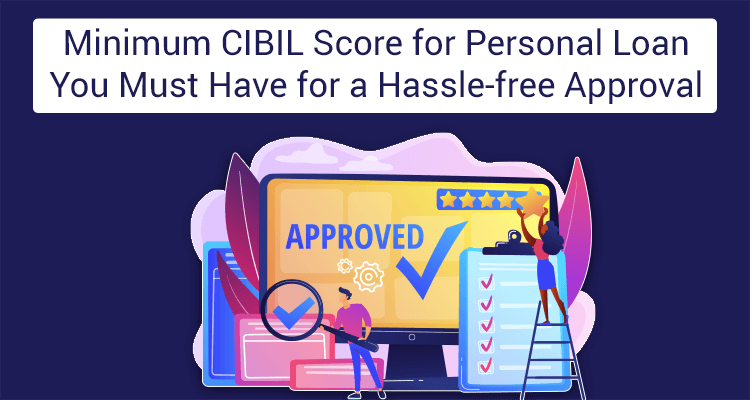 If you need some additional money to remodel your house, purchase pricey new furniture or electronics, cover unforeseen medical costs, or even go on a trip, a personal loan may be the answer.
All personal loans are typically unsecured, which means they don't need any kind of security. A personal loan requires little paperwork and has a quick processing period.
Most lenders base their decision to offer personal loans to borrowers on factors like occupation, employment history, ability to repay, income level, and credit history. Lenders assess the applicant's CIBIL score to check their credit history.
CIBIL Score
Being collateral-free, a personal loan is a risky investment for a lender. To reduce the risk to some extent, lenders use an individual's CIBIL score to evaluate if the borrower can repay the borrowed sum on time or not.
The CIBIL score is a figure produced from the borrower's credit history, which includes information about the total amount of debt owed, current open loans, and most importantly repayment history. The credit score has a range of 300 to 900. Higher the score more are the chances of getting a personal loan.
Also, a higher score leads to quick disbursal, higher loan amount and lower interest rate.
In India, four major credit bureaus that give credit scores are TransUnion CIBIL, Experian, CRIF Highmark and Equifax.
A Good CIBIL Score
To approve personal loans, a majority of lenders require a CIBIL score of 750 or above. Borrowers with credit scores over 750 get approved for loans quicker than others with lower scores. Additionally, they receive better interest rates and payback arrangements as well as larger loan amounts.
Prospective borrowers with scores between 700 and 750 are also mostly successful in obtaining a personal loan. However, they might have to settle for a smaller amount or higher interest rate.
Weak CIBIL Score
Even those with credit scores as low as 650 are eligible for personal loans, though the loan amount would be smaller and the interest rate would be significantly higher. To overcome these drawbacks, a person can rope in a guarantor with a high credit score or provide a collateral to the lender.
Also, a person should start working to raise their credit score by paying off existing loans on time or closing credit card debts. It is important to set up an autopay feature in order to prevent missed payments throughout the loan term.
Conclusion
Most banks and NBFCs sanction and disburse personal loans within a few days, provided the borrower has a strong credit profile and a high-enough CIBIL score.
Maintaining a high CIBIL score is recommended for prompt personal loan approval. In case of a poor CIBIL score, lenders may still approve loans, but they may charge a higher interest rate or sanction a smaller sum. However, as neither of the solutions may be preferable, the best course of action is to establish a solid credit profile over time.