Minimum CIBIL Score Required For Home and Personal Loan In India
Personal loans are for short-term needs & home loans for purchasing property. Read to know about the minimum CIBIL score required for home & personal loans.
9 Jan,2023
10:53 IST
782 Views
307 Likes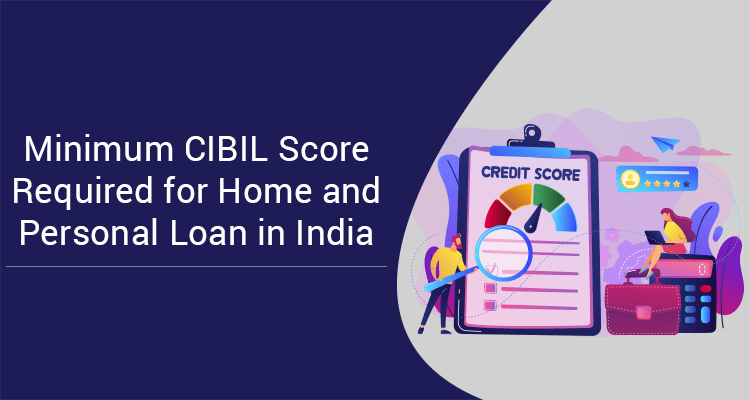 Whenever a person applies for a loan in India, whether secured ones such as a home loan or an unsecured one like a personal loan, one of the key aspects that will decide the acceptability of the application is the person's CIBIL or credit score.
The CIBIL score reflects a person's ability to repay a loan based on their credit history and other established criteria. The score may cover elements such as any unpaid loans and any missed installment on past loans.
Additionally, it takes into account factors such as how frequently a person uses credit cards and how successfully they have traditionally paid their monthly dues.
TransUnion CIBIL, Equifax, Experian and CRIF Highmark are some of the agencies that provide credit scores in India. The score provided by TransUnion CIBIL is known as the CIBIL score, though credit score is the generic term.
The range of the three-digit CIBIL score is 300 to 900. A borrower with a good CIBIL score assures a lender that the person is a responsible borrower who has repaid earlier loans on time, in full, and with interest.
Conversely, a low CIBIL score leads to higher risk for lenders, making them sceptical about advancing loans to such persons.
Minimum CIBIL Score For Home and Personal Loans
To approve personal loans quickly, most lenders require a CIBIL score of 750 or above. Borrowers with credit scores over 750 also receive better interest rates and payback arrangements as well as larger loan amounts.
Prospective borrowers with scores between 700 and 750 are also frequently successful in obtaining a personal loan. They, however, may have to settle for a smaller loan amount or a higher interest rate.
Even those with credit scores as low as 650 are eligible for personal loans, although the likelihood that a lender will reject their application is higher. The loan amount would be smaller and the interest rate would be higher even if the lender approved it.
For mortgaged-based advances such as a home loan, the minimum CIBIL score is much lower than for personal loans as lenders can always fall back upon the mortgaged property to recoup their losses in case of a default. Some lenders may advance a home loan even with a credit score of as low as 550.
Low CIBIL Score
A low CIBIL score doesn't necessarily mean that a prospective borrower won't get a personal loan or home loan. The lenders also takes additional criteria such as salary or income of the applicant into account for deciding on a loan application. A person may also be successful in applying for loans with a co-applicant or a guarantor who has higher credit score.
Also, even if a borrower's creditworthiness is low, they can raise their score over time. So, if they anticipate needing a personal or home loan in, say, one or two years, they can make arrangements now to ensure that by then, their own credit score has improved. This can be accomplished in a number of ways, such as paying off other collateral-free loans, monitoring EMI payments, and using credit cards while making the monthly payments.
Conclusion
Maintaining a high CIBIL score is recommended for prompt loan approval but a poor CIBIL score does not mean that a personal or home loan application will be declined. Lenders may approve loans for individuals with low CIBIL score, but this may come with a higher interest rate or for a smaller sanctioned amount. However, as neither of the solutions may be preferable, the best course of action is to establish a solid credit profile.