Major Challenges Faced By The MSME Sector and Their Impacts
The current economic condition is not suitable for small businesses. We will take you through the major challenges faced by msme sector. Read Now!
15 Dec,2022
11:13 IST
3 Views
98 Likes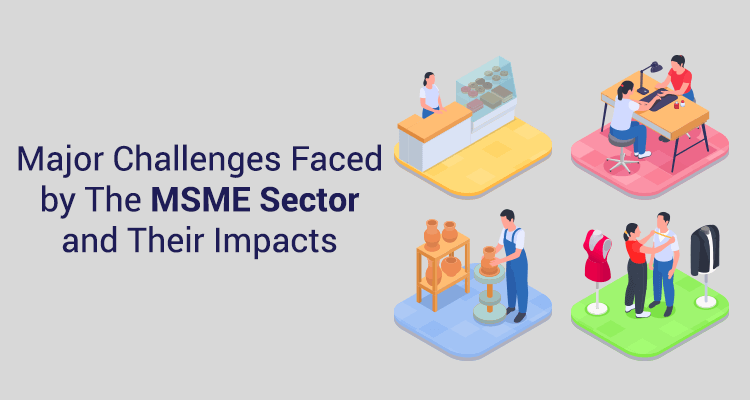 Micro, small and medium enterprises are entities involved in manufacturing and processing of goods as well as providing services, usually at a small scale of operations. Businesses are classified as micro, small or medium enterprises based on their nature, scale, investment limit and turnover. These enterprises are engaged in two types of works —manufacturing and services.
The MSME sector is considered the backbone of the economy as it comprises around 45% of India's total internal industrial employment. India has approximately 6.3 crore MSMEs.
Some of the examples of MSMEs are retail and wholesale businesses, manufacturing units of plastic toys, X-ray clinics, tailoring shops, photo labs, servicing centres of agricultural farm equipment such as tractor and pump repairing.
MSMEs are also involved in making of ayurvedic, khadi and hosiery products, handicraft, furniture and wood products, poultry farming, beauty parlour and crèches, auto repair services and garages, laundry and dry-cleaning operations. There are several businesses, however, that the government has not considered covering under the MSME definition.
With such a vast area of operations, MSMEs typically employ informal workers with little technical and marketing skills.
Challenges Faced By MSMEs
MSMEs in India lag their foreign counterparts on many parameters, such as skill development and access to technology and funds.
Access To Fund And Financial Guidance:
Access to funds has always been a problem for smaller businesses. Not only they lack awareness about the government schemes, they are also many a time not able to convince lenders about their business strategy. They also lack a strong strategy and guidance on prudent spending of the funds availed of from banks under government schemes.
Lack Of Creditwothiness:
MSMEs in India are typically less creditworthy than their larger counterparts. As many MSMEs don't have a strong credit history or assets to put up as collateral, lenders cannot analyse or know whether they can repay their loans. This, in turn, hinders their access to bank credit.
Skills:
MSMEs depend heavily on informal workers who often lack required technical skills. In the long run, this impacts the growth prospects of smaller firms by making them hire workers with limited skill and expertise.
Lack Of Professionalism:
Absence of entrepreneurial, managerial, and marketing skills poses another big challenge for the long-term growth of MSMEs. They also face challenges related to lack of marketing analysis and identifying target audiences. Lack of knowledge about market trend, consumer preferences and advanced technology also hinder their growth.
Access To Technology:
Investment in technology is not a one-time work. It is a perpetual spending as technology needs a constant upgrade. Due to a lack of expertise and awareness, most businesses miss out on the latest technological developments.
Competition:
MSMEs face a stiff competition not just from their rivals within the sector but also from bigger companies that are manufacturing the same goods. MSMEs neither have deep pockets to match the competition posed by bigger companies, nor the expertise to take on competition by the peers.
MSMEs have been facing issues related to profitability and growth due to low productivity and poor working conditions. A healthy MSME sector will create a significant number of jobs that will clearly benefit the country and its people.
Conclusion
MSMEs face a number of challenges, but financial assistance can help them mitigate most of the problems. Being the top domestic recruiter, it is important to ensure that the growth of MSMEs is not hindered for lack of funds.
These enterprises can avail of business loans to address most of their challenges related to expansion and hiring skilled workers, promoting business and getting upgraded technology.