Loan Settlement May Harm Your CIBIL Score
Cibil score is considered an important factor when availing a loan. Read to know about does loan settlement affect your CIBIL score.
6 Dec,2022
10:20 IST
6 Views
216 Likes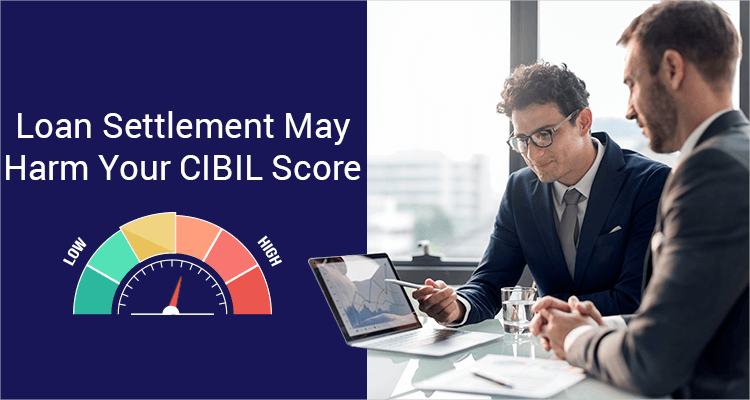 When stuck in a financial crisis, your first thought is to dip into your savings. However, acquiring loans from trusted financial institutions can be viable if your cash needs exceed your savings. Lenders assess you on various parameters before sanctioning a loan, like the CIBIL score that vouches for your credit behaviour and repayment patterns. It ranks you on a range of 300 to 900 to prove your responsibility towards loan repayment. Your loan settlement options also affect your CIBIL score.
What Does The Financial Institution or Lender Do?
The lender can offer the 'One Time Settlement' (OTS) option if the borrower presents authentic reasons for not paying the loan amount. However, this option is effective only after six months of payment failure. When analysing a customer's issue, lenders consider unfavourable conditions like accidents, job loss, severe medical conditions, etc.
The bank or NBFC officials interact with the borrower to assess the genuineness of their situation. Then, they can write off the difference between the amount already paid and the due.
How Can Loan Settlements Affect CIBIL Scores?
Whenever a financial institution writes off a loan, the officials deliver the information to CIBIL. Though the arrangement is complete between the lender and the borrower post the write-off, CIBIL does not consider it closed. Instead, they term it as settled in your credit report. It works negatively for you and reduces your credit score by 75-100 points.
Before offering loans, lenders will scrutinise your credit report to decide your eligibility and credibility as a borrower. They will strictly avoid lending to borrowers with poor credit behaviour and low CIBIL scores.
The Ultimate Solution
Instead of going for the OTS option, you can:
• Sell off some of your stocks or gold assets to clear the debt. You can also seek help from your relatives and friends to acquire short-term financial aid.
• You can request your lender to extend the repayment tenor, simplify the EMI terms, or waive interest.
• When taking a loan, ensure you have a reliable income source to manage the repayment of the principal amount and interest. In addition, you should plan your loan settlement efficiently by creating a reserve or keeping aside an asset to sell off at a time of need.
• In the case of hefty loan amounts, you can get the sum insured. The insurance company will cover the amount in default easily.
Conclusion
Presently, financial institutions worldwide offer various lending options. Low-interest rates, flexible repayment tenors, and easy eligibility conditions have pushed the popularity of loan products. While taking loans is convenient, repayment can be problematic if handled sparingly. Options like One Time Settlement can affect your CIBIL score negatively and spoil your credit record. Therefore, you must plan the repayment schedules efficiently and only make settlements after conducting proper analysis and scrutiny.
FAQs
Q1. How can I improve my poor credit score?
Ans. You can enhance your credit score by:
• Timely repayment of interest and principal amount
• Keeping the debt utilisation ratio low
• Avoid taking multiple debts simultaneously
Q2. What is a good CIBIL score?
Ans. CIBIL score ranks you on a scale of 300 to 900. It shows your credibility as a borrower. A score of 750+ is a good score and can help you fetch low-interest loans.