Is Personal Loan For House Down Payment Right or Wrong?
Personal loan for the house down payment is the smart choice? Read to know how personal loan can help you to finance for your dream house.
22 Dec,2022
11:24 IST
4 Views
96 Likes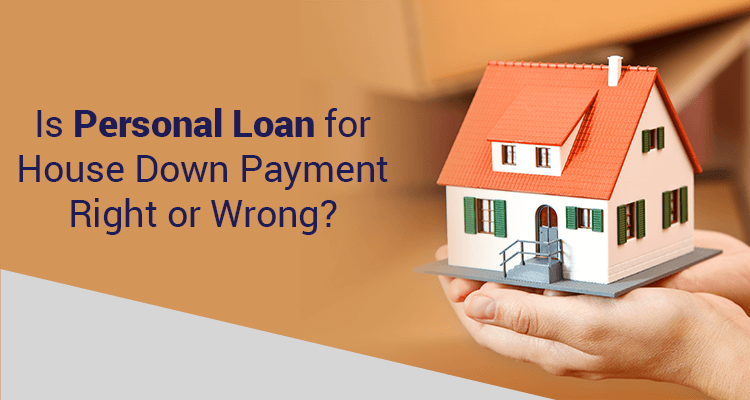 Most people cannot fund their new home purchase through savings because it requires a huge financial commitment. The next best alternative would be to finance it through alternative sources, such as a home loan. Even so, you'll still have to come up with a small share of the property's value as a down payment.
When property rates are tens of lakhs or even crores, down payments can become impossible with savings. Taking out a personal loan is a good option for such scenarios. However, should you take out a personal loan to finance the down payment on your house? Let's find out.
Are Personal Loans Good Options For Down Payments On Houses?
A personal loan is an acceptable way to make your down payment on a home for the lender to approve your home loan. Before taking out a personal loan to make a down payment, you should consider these factors.
• Capital Need
The personal loan offers a lower amount than the home loan, making it ideal for covering small personal expenses. If you have been saving for a home through a dedicated account, consider getting a personal loan to cover the remaining amount.
For example, if you want to buy a house for Rs 35 lakhs and have 30 lakhs saved, you can take a personal loan of Rs 5 lakhs instead of a home loan.
• Loan Repayment Ability
Taking a personal loan to cover a down payment on a home loan creates two financial obligations: repayment of the personal loan and repayment of the home loan. Thus, it is dependent on your repayment capacity.
If you can repay Rs 30 lakhs in repayment and take out a home loan of Rs 25 lakhs, you should take out a personal loan for the rest. However, a personal loan may lead to default if you've already taken a home loan for Rs 30 lakh.
• Existing Credit
You should avoid taking on new debt when you have obligations that must be repaid. An unplanned financial emergency can cause defaults due to too many financial commitments. Thus, you can use a personal loan for the down payment if you do not have multiple repayment obligations.
Although expensive, a personal loan can be useful if used wisely and repaid with discipline. Using a personal loan for a home down payment will bring you closer to your dream home.
FAQs
Q1. Do you get a rebate on your personal loan?
Ans. Some personal loans are eligible for tax deductions under the Income Tax (IT) Act, including education, home renovations, and business expansion.
Q2. What is the interest rate for personal loans?
Ans. Interest rates vary between 9% and 20%.