Improve Your Low CIBIL Score & Get Approved For Best Personal Loan
A personal can be one of the best option to meet unplanned financial needs. Cibil score is considered while providing a loan. Read to know how to improve cibil score and how does good score it help to get a personal loan.
4 Oct,2022
12:13 IST
58 views
3 Likes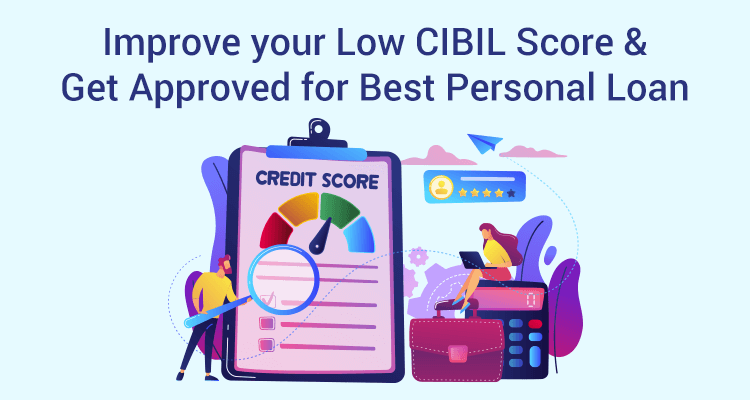 Whenever one is short of money and needs some quick cash, an uncollateralized personal loan can be among the best options that one can avail.
Not only is a personal loan one of the easiest ways to borrow money, the borrower also does not have to furnish any asset to avail it.
Lenders typically look for a good credit history and are often willing to offer the best interest rates to borrowers with a high CIBIL score.
What Is A CIBIL score?
The CIBIL score, or the credit score, is a three-digit number that independent agencies like TransUnion CIBIL, Experian and Equifax generate after analysing a borrower's previous loans and repayments.
The CIBIL score ranges from a low of 300 to a high of 900. A higher score indicates a borrower's good repayment capacity and history while a lower score warns the lender that sanctioning a loan to such an individual can be risky.
What Is An Ideal CIBIL Score?
A CIBIL score of 730 or higher indicates a good credit history while a score of 750 or more indicates that the borrower has had an excellent repayment track record and is, therefore, considered ideal.
Can A Borrower With A Low CIBIL Score Get A Personal Loan?
While a good CIBIL score is ideal, a borrower with a lower score too can get a personal loan although at a higher interest rate.
How Can Borrowers With A Low CIBIL Score Improve It?
Borrowers with a low CIBIL score can gradually improve their credit history by repaying their personal loans in time and in full, without any delay or default.
Doing so will gradually improve their credit history and raise their credit score. Once a borrower has a sufficiently high CIBIL score, she or he can then hope to get the best possible interest rates on any future loans that they may avail.
Other ways in which borrowers can hope to improve their credit scores are as follows:
• By proving that an increase in income will help support their repayments or EMIs
• By asking for a lower personal loan at first and gradually borrowing more once the CIBIL score improves
• By applying with a co-applicant or a guarantor with a better CIBIL score
• By having any mistakes in their credit report corrected
Conclusion
Lenders use CIBIL scores to measure the ability of the borrower to repay a loan. A CIBIL score is basically a gauge of a borrower's credit history, the total borrowings, repayment history and other information.
A good CIBIL score can get you the best rates possible, while a low score can mean higher interest rates. You can improve your credit score gradually by repaying your loans with interest, on time and by not delaying on such payments or defaulting on them under any circumstances.
Once you have sufficiently improved your credit score, you can then hope to get much better interest rates in the market for any future loans that you may avail.