Important Personal Loan Schemes For Government Employees
Personal loan can be a convenient way for any individual to overcome their sudden financial crisis. Read to know more about the various schemes available for government employees.
5 Sep,2022
12:12 IST
8 Views
15 Likes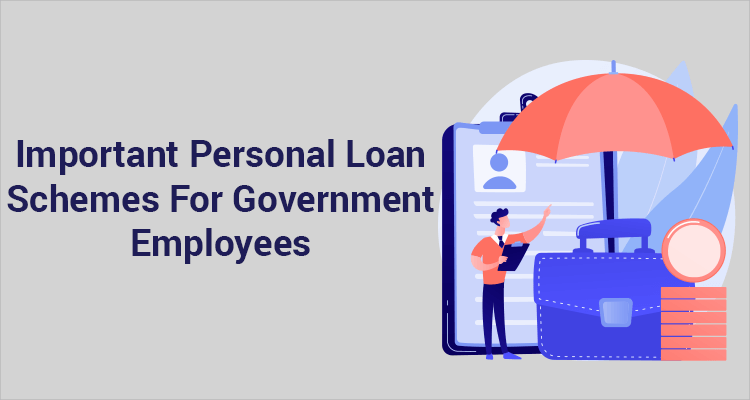 A personal loan can be a quick and easy way to meet unforeseen expenses that one may not be prepared for immediately. These could be anything from emergency medical bills to an unanticipated increase in wedding expenses.
Most people with a good credit history can easily avail a personal loan without collateral. For government employees, it is even easier to take a personal loan.
Lenders often offer permanent employees of central and state governments loans at attractive rates of interest. Such employees are also offered these loans with zero or minimal processing fees as well as no foreclosure charges.
Eligibility
Any government employee, who is an Indian national of between 21 and 58-60 years of age, can get a personal loan from most government as well as non-government banks and non-banking finance companies (NBFCs) in easy steps. Some lenders offer personal loans even to retired government employees up to 65-67 years or age.
Application
The application for a personal loan can be made online and with minimal paperwork. All the know-your-customer (KYC) documents can be submitted online and then the details can be verified.
Most lenders do not worry about repayments in the case of government employees as such people mostly always earn a steady income as monthly salary, which can help them pay back the loan and the interest amount easily.
Instant Approval
As long as their paperwork is in order, most lenders offer government employees a personal loan in a matter of minutes after submission of an application. In fact, many banks and NBFCs have special schemes only for government employees.
Online Disbursement
Once approved, the loan can be disbursed online. This can happen as quickly as within 24 hours of the loan being approved.
Manage Loan Account Online
Most good lenders will allow their government employee clients to manage their loan account online. This can help them easily manage their repayments as well as view all other important details pertaining to the loan.
Flexible Loan Repayment And Tenor
Since most lenders have a degree of comfort lending to a government employee, such clients are offered flexible repayment plans as well as a degree of flexibility in the loan tenor that can go up to five-six years. A borrower can pay both the principal and interest in equal instalments every month. Some lenders even allow government employees to pay back the interest first and the principal amount at the end of the tenor or to pay the principal first so as to reduce their interest outgo.
Conclusion
If you are a government employee, you have a distinct advantage when it comes to availing a personal loan. Most lenders, government or private, feel comfortable in dealing with a borrower who is a government employee as the risk of default in such cases is minimal.
So, as a government employee you can command a very competitive rate of interest and other favourable terms from your lender of choice, provided you have had a good credit history and have not previously defaulted on a loan.