Important Personal Loan Schemes For Government Employees
Any person can find it convenient to get a personal loan to get through an unexpected financial crisis. Learn more about the numerous programmes available to government employees by reading on.
12 Jan,2023
13:22 IST
1075 Views
481 Likes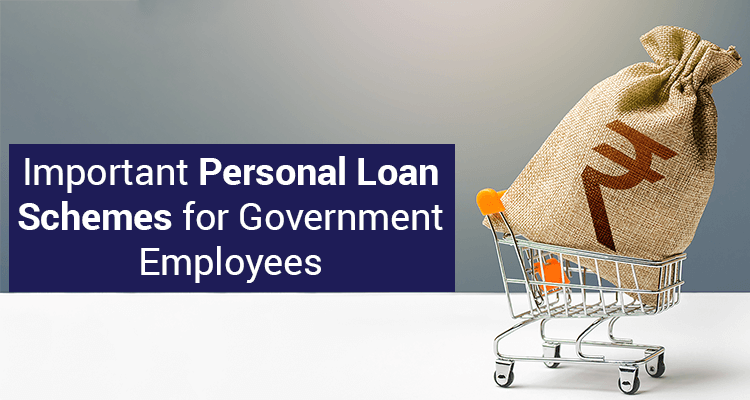 A personal loan is a quick and simple solution to cover unexpected costs that one may not be prepared for. These costs could vary from unexpectedly high wedding expenses to sudden medical fees or also for non-emergency purposes such as buying the latest gadgets or going on a vacation.
A personal loan is usually offered without collateral and is easily accessible to most persons with a decent credit record. Since lenders look for people with stable incomes before approving a personal loan, it is even simpler for government workers to obtain credit.
Permanent employees of the central and state governments are frequently given loans at enticing interest rates. Moreover, these loans are made available to such workers with no application fees or very low processing fees, as well as no foreclosure fees.
Personal Loan Application Process
Most banks and non-banking finance companies accept online applications with little paperwork for personal loans. All know-your-customer (KYC) documentation can be supplied online, too. These documents include PAN card, Aadhaar card and salary slips. Thereafter, the lenders check the accuracy of the information.
Government employees typically receive a regular monthly wage, which enables them to easily repay the principal loan amount and the interest. Therefore, most lenders are unconcerned about repayment in this situation.
Eligibility Criteria
Permanent employees of central and state governments and affiliated organizations, PSUs, ministries and departments can easily avail personal loan schemes offered by various lenders. Teaching and non-teaching staff at government schools and colleges as well as law enforcement and military personnel can avail these schemes, too.
Most government as well as non-government banks and NBFCs make it simple for any government worker who is an Indian national and between the ages of 21 and 60 to obtain a personal loan. Some lenders also provide personal loans to retirees from the government who are up to 65 years old and receive pension.
Quick Approval
As long as the documents are in order, most lenders sanction a personal loan to government employees within just a few minutes after submission of an application. Many banks and NBFCs also have special schemes only for government employees.
Moreover, government employees are less likely to default and usually have a high credit score close to 750. This makes it even easier for them to avail a personal loan.
Fast Disbursement
Once approved, the loan can be disbursed online. This can happen as quickly as within 24 hours of the loan being approved. Alternatively, the borrower can visit the lender's branch office and take a cheque.
Loan Repayment Terms
Government employees, like other borrowers, can also manage their loan account online. This can help them manage their repayments easily and view other information related to the loan.
Since lenders are less wary of lending to government employees, they offer such clients flexible repayment terms and longer loan tenor that can go up to five-six years.
Some lenders even allow government staff to repay the interest first and the principal amount at the end of the tenor or to pay the principal first to reduce their interest outgo.
Conclusion
If you work for the government, you have a clear edge when applying for a personal loan. When a borrower is a government employee, most lenders—public or private—are at ease doing business with them because the likelihood of default is low in these circumstances.
Therefore, as a government employee, if you have a strong credit history and have never defaulted on a loan, you can negotiate a very competitive interest rate and other favourable terms from your lender of choice.