Importance Of Credit Score For Business Loan
The higher the credit score, the better are the chances of qualifying for business loans. But what is the minimum good credit score required? Read to know here!
29 Aug,2022
11:58 IST
8 views
6 Likes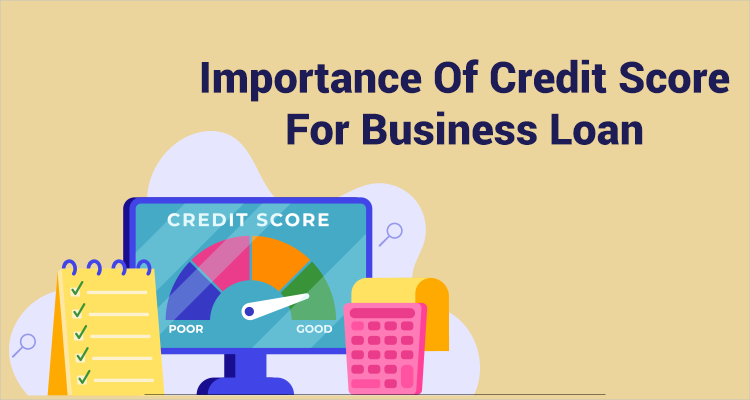 Every business needs capital infusion from time to time. Small businesses, in particular, often find it difficult to meet all their requirements and need to borrow money to ensure business growth and continuity.
So, to meet working capital expenses or expand the business geographic or demographic footprint or simply to pay wages and its vendors, a business may need to take on a loan from a bank or a non-banking finance company.
Just as in the case of a personal loan, a lender looks at the credit score of a business owner or entrepreneur before deciding to approve a loan and at what interest rates and repayment terms.
Good Credit Score
A business owner's credit score of 750 or above is considered good to avail a loan. Such a score allows a business to access large loans at competitive rates of interest. It is, therefore, important that a business owner takes the credit score seriously and if the score is not good, takes steps to improve it.
A score lower than 750 doesn't disqualify a business from getting a loan. Indeed, banks and NBFCs do extend loans to businesses even if the score is less than 750 but above 650. However, they typically sanction a lower amount or charge a higher interest rate or ask for a collateral. A score below 650 makes it very difficult to get a business loan.
Advantages Of A High Score
Quicker Approval:
A good credit score is important to increase the chances of getting a business loan and to get it quicker. It improves the creditworthiness of the business in the eyes of the lender, and helps their application get priority.
Bigger Loan Amount:
A good score is imperative to get a bigger loan. A good score tells a lender that the owners have been responsible with their financial practices and that they have been paying off all their debt on time.
Easier Repayment Terms:
A borrower with a high credit score can get the best interest rates on offer in the market. A low score will attract a higher rate of interest as lenders will not be very comfortable with the credit history of the business owner, who perhaps didn't pay the previous debts in time and even defaulted.
A good score will also help a business owner choose a tenor and a repayment plan that they think best suits the cash flow position of their business. This will ensure the business activity can be carried on smoothly and without strain.
Conclusion
The credit score plays an important role in determining the terms at which business loan can be availed. The higher the score, the better will be the terms both when it comes to interest rates as well as the terms of repayment.
As a business owner, therefore, you should ensure your existing debts are being repaid in full and as per their respective repayment schedules. It is also important to maintain healthy cash flows in the business to ensure the vendors and employees are paid timely, so that the business remains creditworthy and maintains a high score.