Have A High CIBIL score? Know The Importance Of It For A Personal Loan
Cibil score is considered as an important factor when applying for a personal loan. Read to know how high cibil score can be important for a personal loan.
29 Sep,2022
11:31 IST
5 Views
26 Likes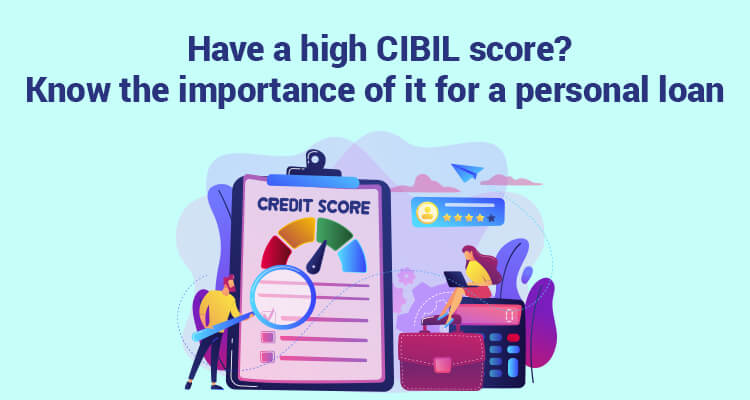 A personal loan is an excellent solution when you need cash quickly for any reason. However, due to this loan's collateral-free or unsecured nature, lenders must verify the applicant's credibility. Your credit score or CIBIL score is the first thing potential lenders consider when evaluating your application. Credit scores indicate responsible credit behaviour on your part.
In this article, find out why a high credit score is essential to obtain a personal loan.
Importance Of A High Credit Score
CIBIL scores aren't the only thing lenders consider when evaluating a personal loan application. Nevertheless, high scores are typically crucial for these reasons:
1. Improved Chance Of Loan Approval
A high CIBIL score indicates that you are a low-risk borrower and can repay your debt on time. A high credit score suggests a history of managing your finances responsibly. As a result, lenders see you as a low-risk borrower. Thus, a high credit score increases your chances of getting a loan.
2. Competitive Interest Rates
When applying for a personal loan, lenders will offer you a lower interest rate if you have a high credit score. You may also get a discount on the loan processing fee. These prerequisites reduce your monthly EMI payments and save you a lot of money in the long run.
3. Loan Amount
Your credit score also determines the eligible personal loan amount. A high CIBIL score makes you a low-risk borrower. Thus, you can obtain a more extensive loan amount. Alternatively, a low CIBIL score can increase your interest rate and make you ineligible for a loan.
4. Increased Access To Pre-Approved Loans
You may also get access to a pre-approved loan faster if you have a high credit score. As these offers generally require minimal documentation and short approval times, they can give you quick access to credit in times of emergency.
5. Approval Of Longer-Term Loans
Lenders are more at risk when they lend for a more extended period. However, if you have a high credit score, you may be able to get a longer repayment term on your loan than someone with a lower score. You may manage your monthly expenses better when you repay a loan over the long term, resulting in smaller EMIs, lower monthly credit burdens, and smaller monthly payments.
Lenders consider various factors when evaluating credit histories, such as payment history, debt amount, and credit history length. An individual's CIBIL score indicates their creditworthiness. For these reasons, improving your credit score is essential before applying for a personal loan.
Frequently Asked Questions:
Q1. What is a CIBIL score?
Ans. An individual's CIBIL Score is a three-digit number that summarises their credit history, rating, and report. The score can range from 300 up to 900.
Q2. What is the ideal CIBIL score for a personal loan?
Ans. CIBIL scores above 700 are generally considered good.