Hybrid Flexi Personal Loan EMI Calculator
The demand for a personal loan is increasing among people because of the easy process and different type of loan. Read to know about what is hybrid flexi personal loan and EMI calculator.
18 Oct,2022
13:06 IST
4 views
31 Likes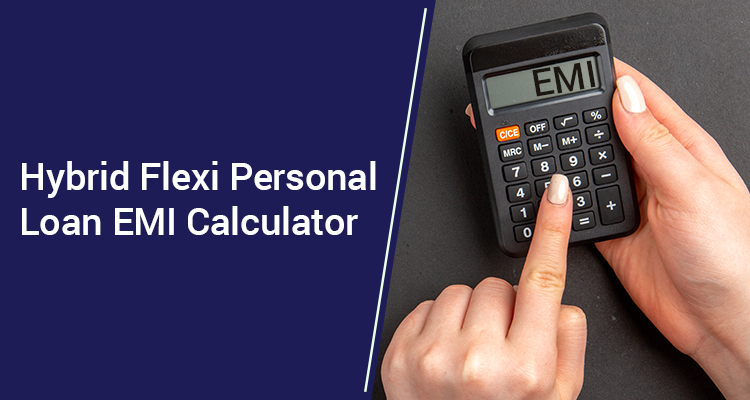 Hybrid Flexi Personal Loans are an ideal solution if you need cash for personal expenses. With quick approval and disbursement, Hybrid Flexi Personal loans are helpful for various purposes. Due to its simple eligibility criteria and lack of collateral, it is one of the most preferred forms of borrowing.
If you take a Flexi loan, ensure you estimate your Equated Monthly Instalment (EMI) amount before applying for one. EMI Calculators are easy-to-use, online tools that allow you to calculate your EMI obligation on a Hybrid Flexi Loan. Additionally, you can use it to determine the loan amount and repayment period.
What Is A Hybrid Flexi Personal Loan?
In Hybrid Flexi loans, you receive a fixed amount (per your application request) for a specific duration. You withdraw funds up to the loan limit as and when required. Additionally, you can repay the loan according to your convenience and ability to pay. Lenders charge interest for the amount you use and for the period you utilise it. For example, if you utilise only Rs 3.5 lakh of the Rs 4 lakh Flexi loan limit, the interest is chargeable only on Rs 3.5 lakh and not the entire loan amount.
What Is A Hybrid Flexi Personal Loan calculator?
The Hybrid Flexi loan EMI calculator is an online tool that lets you determine your interest rate based on the amount you use.
How Does The Hybrid Flexi Personal Loan calculator Work?
After determining your eligibility for a Hybrid Flexi loan, you should calculate the EMI to decide how much you want to borrow. Simply follow the steps below to use the Hybrid Flexi loan EMI calculator.
Step 1: Visit your lender's website and find the Hybrid Flexi Loan page.
Step 2: Calculate the instalment amount by entering the loan amount, interest rate and desired tenure.
Step 3:
Adjust loan variables according to your convenience until you get the desired EMI for your loan.
The calculator provides an accurate estimate by entering the loan amount and term. The calculator will help you identify how much you need and will owe in EMIs. This way, making a well-informed borrowing decision will be easier.
The Hybrid Flexi Personal Loan can help you with your wedding planning, vacation funding, or home renovation needs. Through the Hybrid Flexi loan calculator, you can calculate your EMI and apply for a personal loan today!
FAQs
Q1. Who is eligible to get a hybrid Flexi loan?
Ans. Hybrid Flexi loans in India are available to salaried and self-employed individuals over 25 years of age.
Q2. What are the documents required for getting a hybrid Flexi loan in India?
Ans. Salaried individuals can apply for hybrid Flexi loans by providing the following documents:
• Form 16
• Salary slips and bank statements for the last six months
• KYC documents
Self-employed individuals must submit the following documents for a hybrid Flexi loan:
• Business proof
• KYC documents
• Bank account statement for the past six months