Guide About How To Start Textile Business?
The textile business is one of the industry which provide employment to a larger extent. Read to know about how to start textile business.
17 Oct,2022
11:47 IST
2 views
2 Likes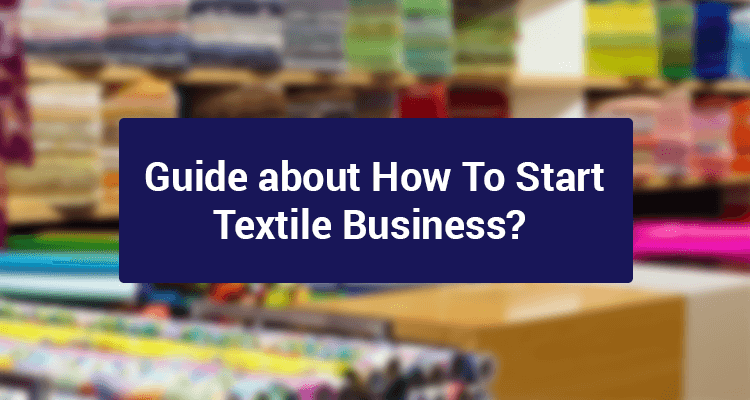 India, one of the largest producers of textiles in the world, has a rich history in textiles dating back to centuries. The textile industry is the second-largest employment generator in the country.
Individuals who want to become a textile entrepreneur must find out if there is demand for the product before starting the textile business. A whole lot of startups wind up before the first year because of lack of preparation. So, it is important to evaluate out how viable the business idea is.
The preparation involves the following steps:
Market Research
Research must be done to identify target customers and analyse demand and supply scenario. Research also must be done on competition and markets.
Business Plan
Preparing a business plan helps to understand how viable the model is. It must make realistic assessment of the funds needed and likely expenditure. The plan must also focus on the niche your business offers.
Raw Materials
Choose the location of the business based on easy availability of skilled labour and raw materials, and proximity to markets.
Funding
Funding must be tied up before one starts a business. The business owner must determine how much capital is required to launch and maintain the enterprise.
The funding options include loan from family and friends, angel investment, and a loan from banks or non-banking finance companies. One can also look at different schemes offered by the government and local authorities for startups.
Registering Business
There are different ways of incorporating the business depending on the size and scale of operations.
Sole proprietorship is ideal for small operations run by a single person while Limited Liability Partnership is a good option as it is a flexible legal and tax entity that allows partners to enjoy economies of scale and reduce liability.
If one is starting a business with others, partnership is an option. But make sure that you choose the right partners.
If the business is into manufacturing or into exports, it is better to register it as a private limited company.
Licenses
The business will need to take different licenses and permits from the government and local authorities. If the business is into manufacturing, it will also need a factory license and a pollution certificate.
In addition, the business will also need to take its own Goods and Services Tax (GST) number and a permanent account number (PAN) for tax purposes.
Insurance
Starting a business consumes a lot of time, effort and money. It is always better to insure your business against unforeseen eventualities and take adequate insurance cover.
Social Media Presence
In today's world building a strong and sustainable business also means having a good interactive website and social media presence. This will also help in marketing and advertising initiatives.
Conclusion
There are many good business ideas. But the difference between a good idea and successful business is planning and preparation. An entrepreneur will also require financial resources to launch and sustain a textiles business.
Along with investing some of their own money in the company, the founders can also borrow money from a bank or non-banking finance organisation. Most financial institutions stay away from approving business loans before the firm has been in existence for a while. In such a scenario, the entrepreneurs would have to take out a personal loan or a gold loan. They can then apply for a range of business loans to expand their enterprise after a few years.