How To Start A Construction Company In India?
Want to know how to start a construction company ? Here are few tips on how to start a construction business in India. Read Now to know more!
19 Dec,2022
12:33 IST
5 Views
46 Likes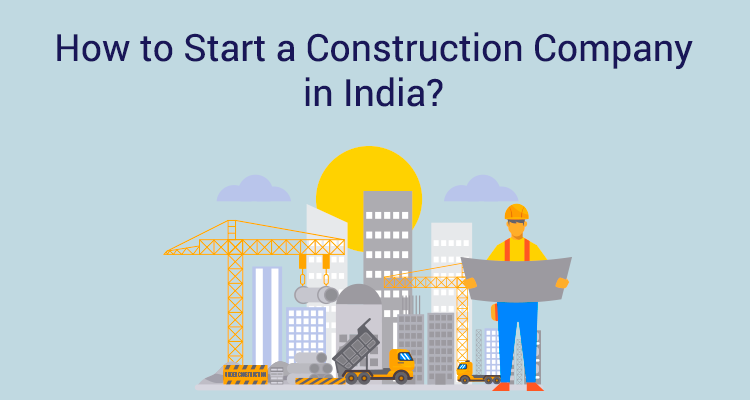 The Indian government has been investing heavily in building infrastructure to spur growth. The private sector, too, has not been behind. All this bodes well for those interested in setting up a construction company in India.
Deciding about your company's organizational structure or how you want to manage it is the first step in starting a construction company.
Structure Of Construction Company
A limited liability partnership, a regular partnership, a sole proprietorship, or a company can all be used to operate a construction business. Each structure has advantages and restrictions of their own.
A proprietorship offers the convenience of quicker business decisions and the freedom to manage the firm as one wants, whereas a company and an LLP would limit liabilities.
It is important to thoroughly research the area in which you are going to work. Learn about your competitors. Most construction work is awarded through tender, so it is a good idea to get well-versed in the auction process for infrastructure work.
Registration For GST
Registering for the Goods and Service Tax should be done at the earliest as most of the activities involved in construction attract GST. While the typical GST rate in construction services is 18%, it can vary depending on the type of work you take up, starting at as low as 1% for affordable housing.
GST registration can be done through the official GST portal, https://www.gst.gov.in. Under the Services tab, choose Registration and then New Registration.
Funding
Most construction work is capital intensive, making it important for entrepreneurs to be well-funded from the start itself. You can begin by putting in your capital or by borrowing from banks or non-banking finance companies (NBFCs). If the business has just started, you may need to mortgage construction equipment or a piece of property to secure a business loan.
You will also need to tie-up for working capital loan as there may be a gap between the payment that the construction company will have to make and the revenue generated through invoicing. Another way to generate working capital could be invoice financing, where you can get funds from banks or NBFCs based on unpaid invoices.
Labour/Vehicle
The construction work is usually labour intensive. So as a construction company you should ensure availability of a pool of workers. Also, workers should be ready to move from one location to another along with the work. Alternatively, you can work with labour contractors who usually have a team of workers on a regular basis.
A construction company will also need a fleet of vehicles and construction equipment. These are usually easier to finance as the vehicle or equipment could itself be kept as a mortgage to secure the loan. The other option would be to lease such vehicle or equipment, especially if the need is short term.
Bidding For Work
The central government, state governments and public sector units have all set up centralized websites for awarding infrastructure work. It is a good idea to go through such websites to ensure you meet all the criteria laid out by them. Large private companies and organizations similarly issue tenders for construction work.
Conclusion
The infrastructure business is one of the most lucrative sectors in India and starting a construction company is the first step in this direction. Make sure you research the area well in advance and are ready with funding and other requirements when setting up a construction company in India. For funding, you can take a business loan from banks and NBFCs. This could either be a term loan, an equipment loan, a working capital loan or other forms of debts.