How Can I Get A Personal Loan In One Day?
Personal loan can be important to meet urgent cash requirements. Want to know how to get personal loan in one day. Read Now.
24 Nov,2022
05:40 IST
2 views
1 Like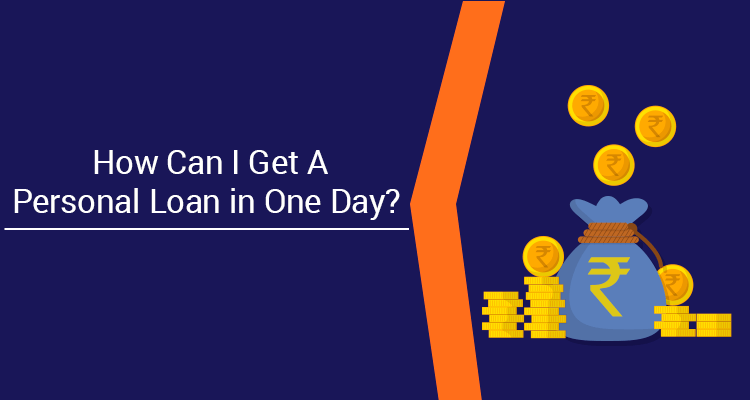 Often, the necessity for cash for short-term needs arises unannounced. You may run out of time to think about raising funds. In such cases, personal loans are the fastest and best option.
If you cannot pledge personal assets, such as gold ornaments, and need money urgently, you can benefit from personal loans. Additionally, lenders now offer paperless applications for personal loans online. You can take advantage of it instantly with minimal documentation and without leaving the house.
Here's how you can get a personal loan in one day.
Steps To Get A Personal Loan In A Day
Keeping the essential documents ready when applying for a personal loan is important. You can complete the rest of the process via a mobile phone or computer.
The following steps will show you how to get a personal loan quickly.
1. Compare
Before taking out a personal loan, it is essential to compare the interest rates and other fees offered by different lenders.
2. Clean Credit History
Creditworthiness is the most influential factor in getting a personal loan quickly. To achieve this, you must have a high credit or CIBIL score. Paying off past loans can help raise the score or maintain it at a high level, among other things.
3. Visit The Lender's Site/App
You can download the lender's app or visit their website before selecting the preferred loan provider.
4. Apply For The Loan
On the website or application, select the personal loan option and complete the application form, which includes information such as your identity and income status, along with the amount and tenure of the loan.
5. Submit Documents
To complete the application, you must upload the necessary identity and income documents electronically.
6. Agree To Terms
After reviewing the application and documents submitted, the lender will provide a range of terms, including interest rates, repayment options, and more. The personal loan terms can be digitally signed and agreed to by the borrower according to their preference.
Once the borrower has applied with all the required documents, the lender processes the application sanctions the loan and even deposits the loan amount directly into the borrower's bank account within hours if their income and credit score meets the lender's criteria.
Frequently Asked Questions
Q1. Who should take a same-day personal loan?
Ans. Same-day loans are ideal for individuals who
• Want to avoid borrowing money from family and friends.
• Require instant cash.
• Do not wish to use a credit card cash advance.
Q2. How long does an instant loan take?
Ans. Completing the application usually takes 15 minutes, as you perform the entire process online.