How To Identify and Avoid Personal Loan Frauds In India
The scam and fraud is increasing for a personal loan. Read to know how to identify and avoid personal loan frauds.
15 Nov,2022
13:10 IST
2 views
1 Like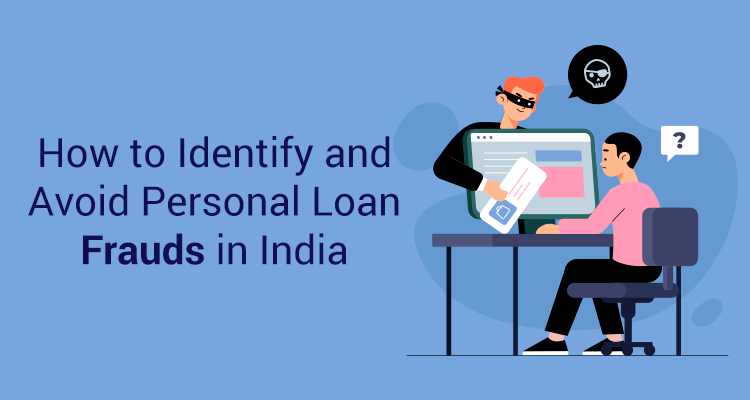 Demand drives supply, and the financial services sector is no exception. Since the digitisation of monetary activities, there has been an alarming trend where fraudsters trick consumers by acting as respectable financial institutions. These loan scams in India resulted in individuals losing money, property, and, in extreme situations, their lives due to fraudulent lending schemes and their aftermath.
These incidents, while highly prevalent, may be avoidable with proper examination and awareness. Here are a few warning signs of loan fraud in India.
• Demanding An Advance Payment:
You do not have to pay an amount to secure a loan. One of the most common loan scams is when fraudsters demand a fee before giving a loan. Any loan that requires money up front for 'insurance' or 'filing' is not legitimate. Financial institutions levy a processing fee, which lenders deduct from the loan amount.
• Loan Approval Guaranteed:
If you apply for a personal loan, there is no guarantee that you will get approved. Loan acceptance depends on various factors, such as credit history and information verification.
• Online Data Phishing:
If the lender's website lacks an 's' after the 'HTTP,' this is a warning, and you should cease browsing such sites immediately. The lack of an 's' or a lock icon next to the address indicates that the website is unsafe and could be a fraud.
If you apply for a loan through such a website, they will have access to your personal information, like your bank account number and password. Many loan scam sites seem like the official websites of banks and other financial organisations. Always double-check the website address.
• No Credit Check Is Necessary:
Beware if a lender is unconcerned with our credit score and offers a personal loan with the standard interest rate. A legitimate financial institution will be concerned about your creditworthiness if you cannot repay the loan on time.
• Time-Limited Offers:
Be wary if you receive emails or see advertisements urging you to take a loan "immediately" since the offer is for a short time. Banks provide loans at fixed rates depending on your credit history. Such pressure methods instil a sense of urgency and deceive you.
• Unsolicited Communication:
Scammers make texts, emails, and phone calls to those in desperate need of money, claiming that a loan is available right now. Such emails and texts may lead you to assume that you will receive a guaranteed loan with no eligibility requirements or credit checks. The goal of such lenders is generally to obtain your personal information. Do not succumb to such techniques.
When it comes to loans, the most important thing to remember is that if it looks too good to be true, it generally is. Unrealistically low-interest rates, little research on the lender's part, supplementary offers to enhance the deal, and other such deals are all warning flags to be aware of when selecting a loan choice.
FAQs
Q.1: Why is a credit score required for personal loan disbursement?
Ans: Your credit score demonstrates your trustworthiness to a potential lender. Your credit history validates your lender's confidence to pay your loan obligations on time.
Q.2: How do I know if the loan is in my name?
Ans: Checking your credit record is the most straightforward approach to see if a loan has been issued on your PAN card. Your credit report will show all loans and lines of credit issued in your name.