How To Get The Lowest Gold Loan Interest Rate
Gold loans are less expensive than other types of loans. If you are looking for lowest gold loan then you are in the right place. Click here to know more.
22 Sep,2022
11:44 IST
20 views
24 Likes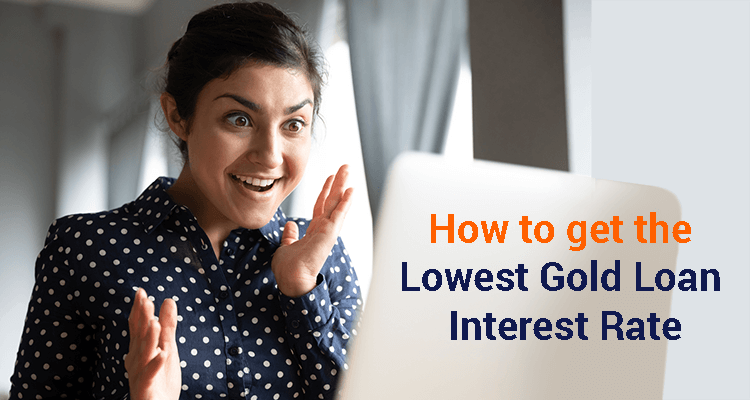 A gold loan can offer an easy way out to tide over financial difficulty. It is essentially a collateralized loan where a borrower mortgages some personal gold to borrow money from a bank or a non-banking finance company.
As gold loans are collateralized, they carry lower interest rates than non-collateralized personal loans. In addition, there are several ways in which a borrower can further lower the cost of borrowing while taking a gold loan. Here is a quick look at some of these options.
Compare loans being offered by various lenders:
The gold loan market consists of all sorts of lenders—banks, non-banking finance companies, specialized gold loan companies as well as local pawn shops and unorganized moneylenders. A borrower should look for the best interest rates being offered in their area.
Negotiate:
Borrowers should scout the possibility of whether a lender is open to negotiating and offering a loan at a lower interest rate. Since it is a competitive market, this may be a distinct possibility.
Offer gold of high purity:
The interest charged on a gold loan is a function of the purity of the gold being offered as collateral. So, if a borrower can offer gold of high purity, they can get the best interest rate from the lender.
Offer some non-gold assets as collateral:
If a borrower can offer some non-gold collateral such as land, commercial or residential property, fixed deposits or any other asset of value, lenders can typically offer the loan at a lower interest. This is because the extra collateral gives them greater comfort in case of a default by the borrower.
Look for festival discounts:
Almost all lenders, big and small, offer festival discounts and offers on gold loans. These offers come especially around the main festivals like Dussehra, Diwali, Dhanteras, New Year, Sankranti, Pongal, Onam and Holi. Depending on the region where the borrower is based, the timing of these festivals could vary. So, borrowers should be keenly looking out for such discounts while availing a gold loan.
Choose flexible repayment plans:
Apart from these, borrowers should also look for flexible repayment plans being offered by lenders to lower their overall cost of borrowing. This can be done by paying off the principal amount first and then the interest portion, so that no further interest is levied on the principal paid.
Refinance a loan:
A borrower can refinance a loan if they think it is expensive or if they face cash flow issues. But they should first consider the foreclosure charges and the refinancing terms.
Conclusion
There are several ways in which a borrower can either get a gold loan at a lower cost or can bring down their total interest outgo by making some smart repayment choices
So, the next time you need to get a gold loan, do consider each of these options to get it as cheaply as possible.