How To Get A Personal Loan Without Bank Statement
A personal loan can be used to meet various financial needs. Read to know about the documents required to avail a personal loan.
13 Oct,2022
10:58 IST
3 views
99 Likes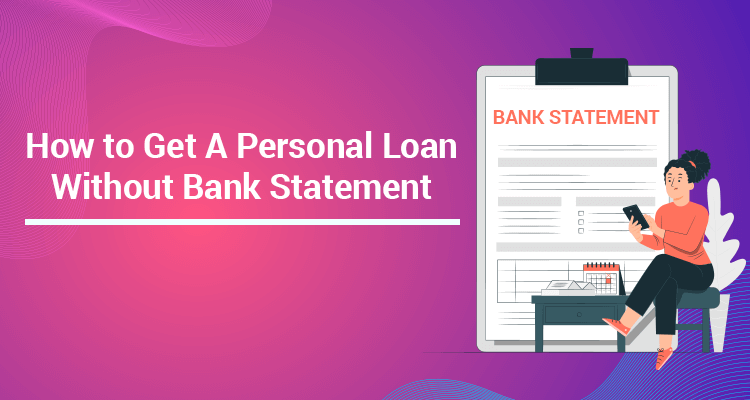 The pandemic affected people worldwide in many ways. COVID-19 gave rise to not only medical emergencies but also impacted people's finances drastically. This event led to an increase in demand for personal loans. However, to avail of a personal loan, lenders analyse your bank statement as a part of their eligibility criteria. Then, how can you get a personal loan without a bank statement?
This article guides you on how to get a personal loan without a bank statement.
What Is A Personal Loan?
A personal loan is an unsecured loan you can avail to fulfil your unexpected or emergency expenses. It is a multi-purpose loan, useful for medical crises, foreign trips, starting a business, or arranging a wedding, among other things.
How To Get A Personal Loan Without A Bank Account?
Availing of a personal loan is simple, and the application process is entirely online. It requires some essential documents like:
• ID proof
• Address proof
• Passport size photograph
• Bank statements
While the above requirements are essential, you can get a personal loan without a bank statement if you can back your financial reputation with the following.
1. Good Credit Score
A credit score conveys your creditworthiness. Lenders are primarily concerned about loan repayment, and a good credit score ensures the same. Hence, a good credit score can be favourable without a bank statement.
2. Low Debt-To-Income Ratio
It is advisable to keep your ongoing EMIs less than 50% of your monthly income to avail yourself of a new personal loan. Keeping the debt-to-income ratio low can help lenders know that you have enough money to repay the amount.
3. Get A Guarantor
Those looking for personal loans without bank statements can also get the loans they need with the help of a guarantor. A guarantor is a person who guarantees your creditworthiness to repay the loan if you default. However, the guarantor must have a good CIBIL score to help you qualify for a personal loan.
4. Pledge Collateral
Although a personal loan is unsecured, you can opt to pledge collateral if you fail to provide any/all of the prerequisites mentioned above. This way, the financial institution will be at a lower risk of lending the amount you need.
A personal loan is one of the quickest and most flexible loans available to fulfil your planned and unplanned expenses. The entire process can be done online and with the easiest documentation process.
Frequently Asked Questions
Q.1: How is my personal loan eligibility calculated?
Ans: Primarily, the loan eligibility depends on
• The company you work in
• Your salary/ income per month
• Your outstanding loans
• Your credit score
Q.2: What happens to my EMI amount if I change my job?
Ans: Your EMIs remain unchanged if you continue to make timely payments. However, it is advisable to inform your loan manager to make any changes if required.