How To Get Long-Term Business Loan For A Fresher In India?
A start-up is a company that is at the very basic or initial stage of business. The individual may not have enough finances to fund the business activities. Know more about how a fresher can apply for long-term business loan.
7 Sep,2022
12:21 IST
5 views
28 Likes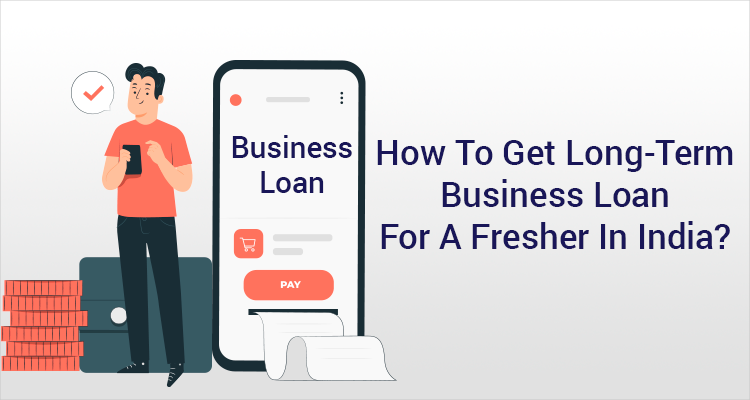 The Indian government wants to promote startups in a big way. Not only has it launched the 'Startup India' campaign to this end, it has also made it easier for such entities to avail business loans.
Budding entrepreneurs who may be straight out of college can avail a business loan for their startups from a bank or a non-banking lending institution.
A business loan can be used for all manner of things including meeting working capital requirements, paying wages, buying raw materials, for capital expenditure and for any other needs.
While thousands of startups in India do have access to venture capital, the micro, small and medium-sized enterprises (MSME) in India often have limited access to formal credit.
But what kind of business loans can a fresher, straight out of college, avail?
To help budding entrepreneurs, the Indian government has rolled out several loan schemes for startups and MSMEs. Here's a look at all the major business loan options that are available to a fresher.
SIDBI
One of the government's agencies that supports MSMEs is the Small Industries Development Bank of India, or SIDBI, which now lends directly to such entities, rather than routing it via banks. SIDBI loans usually come at a lower interest rate as compared to those offered by commercial banks.
NSIC's Bank Credit Facilitation Scheme
The National Small Industries Corporation (NSIC) has a scheme that caters to the MSMEs. The NSIC provides loans in partnership with banks. These loans can be for as long as five to seven years, and in some cases up to 11 years.
Credit Guarantee Scheme
The Credit Guarantee Scheme is for MSMEs in the manufacturing as well as services sectors, but not including those running educational institutions, retail services, agricultural units and self-help groups. This is backed by the Credit Guarantee Fund Trust for Micro and Small Enterprises. Loans of up to Rs 2 crore can be availed under it.
Sustainable Finance Scheme
Championed by SIDBI, this scheme offers loans to companies in sectors like green energy, renewable energy, hardware, technology and non-renewable energy.
Psbloansin59minutes.com
This digital portal is a SIDBI initiative that lets new businesses borrow money. Loans of up to Rs 10 lakh can be availed under the MUDRA scheme and of up to Rs 5 crore via the MSME scheme.
Pradhan Mantri Mudra Yojana (PMMY)
The seven-year-old loan scheme is promoted by the Micro Units Development and Refinance Agency (MUDRA) and offers credit to all sorts of trading, manufacturing and service sector units. These loans range from Rs 50,000 to Rs 75 lakh and are given to artisans, shopkeepers, machine operators, repair shop owners as well as vegetable vendors.
Bank Loans
Several banks and non-banking financial institutions offer businesses loans at varying rates of interest.
Equipment Financing
These are collateralised business loans, in which the equipment that is bought while starting a business is itself pledged as collateral. This gives the lender a degree of comfort and the borrower can be charged a slightly lower rate of interest. The company can pay back the loan and the interest as its cash flows begin to come in. The depreciation on the equipment can be used by the borrower to get a tax benefit.
Conclusion
A budding entrepreneur has several options to choose from when it comes to availing financing for their fledgling business. There is a vast market of lenders from which a business owner can choose to borrow money.
All that a borrower needs to make sure is that they have a good credit history and their business does not have any blemishes when it comes to its track record.