How To Compare Different CIBIL Score Range?
Want to know about cibil score range and how is it generated? Read to get the complete details on cibil score range.
14 Dec,2022
10:51 IST
6 Views
2 Likes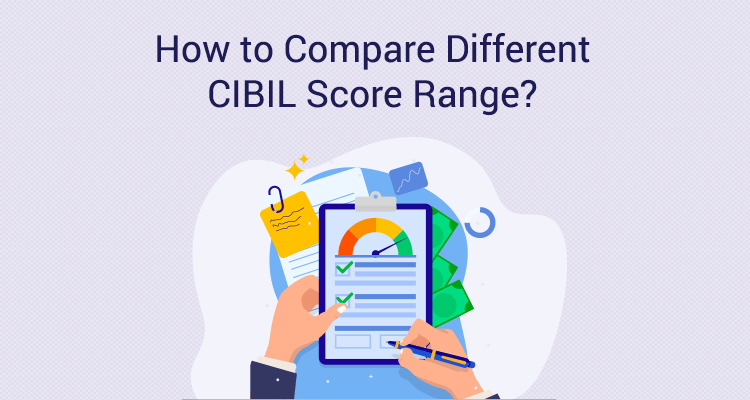 All lenders use a number of parameters to assess a prospective borrower's loan application, especially for unsecured debt that doesn't require providing any collateral. One of these parameters is the borrower's credit score, which is also widely known as the CIBIL score after the first company that popularized the concept in India.
The company, now known as TransUnion CIBIL, is a credit information bureau that compiles a database of an individual's credit history. It prepares a report of an individual's credit behaviour and assigns a score based on the loan repayments.
The CIBIL score is a three-digit number that marks a borrower on a scale of 300 to 900, with 900 denoting maximum creditworthiness. It is a dynamic rating and improves or deteriorates with monthly repayment behaviour. A higher score increases the chances of availing a loan, and that too at affordable rates.
Other Agencies
There are four credit bureaus in India--TransUnion CIBIL, Equifax, Experian, and Highmark—licensed by the RBI. They compute the credit score on the basis of an individual's credit information, submitted periodically by banks, credit card companies, and other institutions. A CIBIL score, however, remains the most preferred one by all lenders.
Classification Of The Score Range
Here is an overview of the credit score range that most bureaus and lending institutions consider:
NA/NH:
Individuals with no credit history are assigned this rating, which simply means "not available" or "no history". This rating is given to people who have never taken out a loan or used a credit card before, or when information about their credit activities isn't known.
300-599:
A CIBIL score in this range is considered poor. A borrower with erratic repayment behaviour lands up in this range. Lenders are likely to reject a loan or a credit card application for people in this range. A score in this range means that the borrower has been late in paying credit card bills or EMIs.
550–649:
A CIBIL score in this range is considered adequate. Chances of getting a loan application approved are low. Some lenders, however, may consider offering loan in this score range, but may seek collateral. Also, the interest rate charged by the lenders may be comparatively higher. If a borrower struggles to pay credit card dues and loan EMIs on time, he may have a CIBIL score in this range.
650–749:
Lenders consider a score in this range as a good indicator of credit behaviour and may approve the loan application quickly. However, banks may still charge a high interest rate on the loans.
750–900:
A score in this range is considered excellent, and reflects that a borrower has paid all credit card dues and loans on time. Chances of getting a loan approved at best interest rates are higher for people in this range.
Perfect score:
Lenders consider a score of 850 and above as a perfect score, but that is a difficult one to achieve.
Conclusion
A CIBIL score speaks about the borrower's repayment discipline. Hence, one must strive for a high score and avoid bad repayment behaviour. Although a perfect score of 850 is difficult to achieve, with a decent repayment track record, one can get a score of 750 to avail loans at affordable rates.
While the CIBIL score is not the only factor that lenders look at to approve a loan application, it is an important factor that determines the approval and the rate of interest.
Also, these scores are dynamic in nature, hence, an individual with low score must work towards improving it.