How To Clear Overdue Payments With A Personal Loan
Personal loan can be used for various aspects. Read to know how personal loan can help you to clear your overdue payments.
30 Sep,2022
11:14 IST
2 views
74 Likes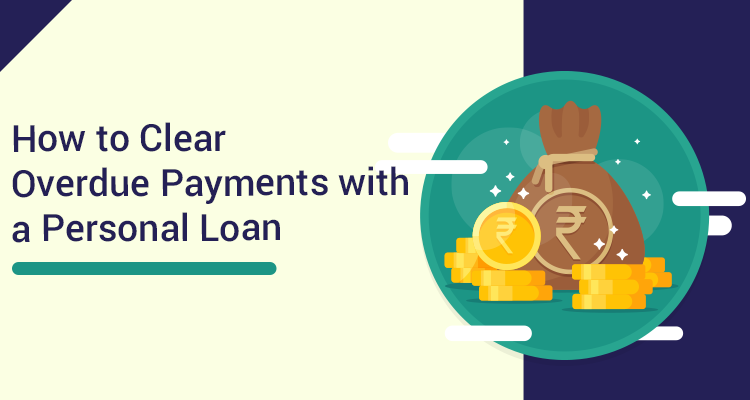 Financial obligations are often unforeseen and hard to handle, especially during a cash crunch. However, accumulating debt can lead to more financial distress. You can consolidate your debt or get ahead of all your payments through a personal loan, which you can repay at a lower interest rate and with lower monthly EMIs.
This article focuses on how you can make an overdue payment through a personal loan.
What Is A Personal Loan?
Personal loans are unsecured loans where the borrower doesn't have to pledge any asset as collateral while applying. However, a lack of collateral leads to high-interest rates. This type of loan is ideal for people who don't possess any physical assets or simply don't want to use gold or land to deal with the financial burden.
How Does A Personal Loan Help Combat Overdue Payments?
Outstanding payments can be overwhelming. In this case, credit cards are a faster and easier option. However, the rate of interest on credit cards is high. Therefore, a more economical alternative is a personal loan. The interest rates on a personal loan are relatively lower than on credit cards.
Here are additional advantages of combating overdue payments or consolidating debt through a personal loan.
1. No Restriction On Usage
When you acquire a personal loan, you can use it for any purpose. Whether it is overdue utility bills, an exotic vacation, or bills overdue from a marriage reception, personal loans can help you fulfill it all.
2. Loan Disbursal In 72 Hours
If you fulfill the lender's eligibility criteria and submit all the documentation, the personal loan will process within 72 hours. Additionally, the lender often offers loans online with minimal hassles if you have previously taken loans and repaid them on time.
3. No Collateral Needed
As a personal loan is unsecured, there is no collateral required. Thus, the approval of a personal loan is easy and based simply on the lender-specific eligibility criteria.
4. Flexibility In Loan Tenure
You can pick the loan tenure of your choice when you apply for a personal loan. The bank allows a maximum tenure of 5 years for personal loans. However, it varies from one lender to another. Some financial institutions also offer a maximum tenure of 7 years.
5. Fixed Interest Rate
Unlike other loans, the interest rate remains fixed till the end of the tenure in personal loans. The ability to change the interest rate or reduce EMIs doesn't apply to personal loans.
FAQs
Q1. What are the eligibility criteria for a personal loan?
Ans. The eligibility criteria vary among lenders. These standard criteria for a personal loan are as follows:
• Salaried and self-employed individuals can get a personal loan.
• The applicant must be at least 21 years old and not older than 60.
• The minimum monthly salary is restricted to Rs. 15,000, with at least two years of employment record.
• The person must reside at the present address for at least a year.
Q2. What are the documents required for a personal loan?
Ans. The standard documents to furnish for a personal loan include:
• ID Proof: PAN card, Aadhaar card, driving license, voter ID, or passport
• Address Proof: Electricity bill, PAN card, telephone bill, passport, ration card, Aadhaar card, or voter ID
• Salary slips from the last three months or Bank statement from the last six months for salaried applicants
• For self-employed applicants, proof of business, last three years' ITR filing, and bank account statement