How To Check If A Personal Loan App Can Be Trusted
The process of applying for a personal loan is changing with a modern time with the help of personal loan app. Read to know everything about personal loan app.
30 Nov,2022
12:12 IST
7 Views
2 Likes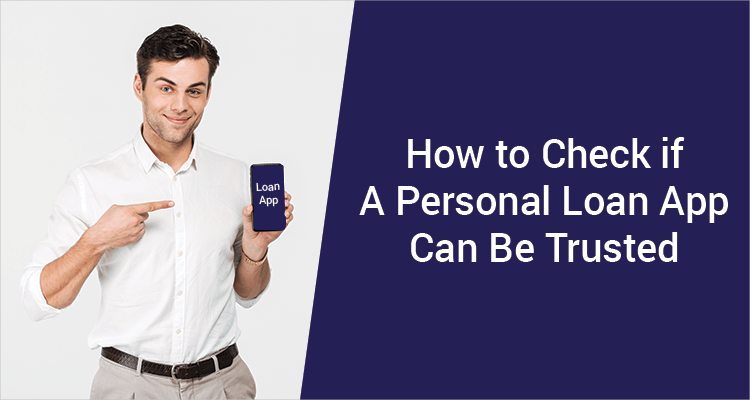 The rise of the fintech industry has spawned many apps and websites built to offer various lending products. It has also led to increasing fraudulent activity. With many lenders emerging, small or big, it is challenging to determine who is trustworthy. Many people have suffered due to an inability to identify a trusted lender. Then, in what ways can you identify a safe app to share your information and apply for a personal loan?
What Are Personal Loan Apps, and How To Check Their Trustworthiness?
A personal loan allows you to borrow money to pay for expenses and repay those funds over time. For example, you can use a personal loan to cover the following:
• Debt consolidation
• Medical emergency
• Wedding expenses
• Home renovation or repair
• Funeral expenses
• Holiday expenses
• Unexpected expenses
Personal loan apps are your one-stop, easy, and quick solution for all your loan requirements. Typically, they disburse loan amounts within 24 hours of the approval process. As easy and convenient as personal loan apps are, you should be careful in choosing the app. Here are a few things to check before applying.
• Verify Your Lender
Before applying for a loan, quickly Google to see if the company is RBI-registered. Institutions regulated by the RBI must follow regulatory guidelines and have a strict code of conduct. If the RBI does not approve your loan application, the circle of protection would be out of the bounds of the Privacy Policy.
• Website Verification
If the mobile loan app does not have a website, do not trust such an application. Always look for "HTTPS" in the URL, even if the website is listed. A trusted lender ensures that your connection to a website is always secure, protecting your identity from data-stealing cybercriminals.
• Check For A Physical Address
Each lender must have a registered address, phone number, and email address. It is a red flag and could be a fraudulent loan app if you can't find these details.
• Interest Rate
Always check the interest rate and late fee structure before applying for a loan. In any case, it is a scam if the lender lacks transparency about the amount of interest on the loan and approves the loan without verifying your creditworthiness.
• Online Reviews
Look for reviews on the Google Play Store to understand the app's trustworthiness of the app. You can also examine their website and check the ratings of the application.
Frequently Asked Questions
Q.1: Are personal loan apps safe?
Ans: Technology has brought everything to your fingertips, and personal loans are no exception. However, you should check for the provider's legitimacy by scrolling through online reviews, verifying the lender, website and address verification, etc.
Q.2: What happens if the app crashes before you finish applying for the loan?
Ans: You can retry applying in case of a crash. Most apps retrieve the data if the process remains unfinished.