How To Calculate Business Loan EMI
A business loan can prove to be useful for entrepreneurs & small businesses to run their businesses smoothly and overcome any financial crunches. Calculate your business loan emi easy with this guide.
21 Sep,2022
11:30 IST
7 Views
30 Likes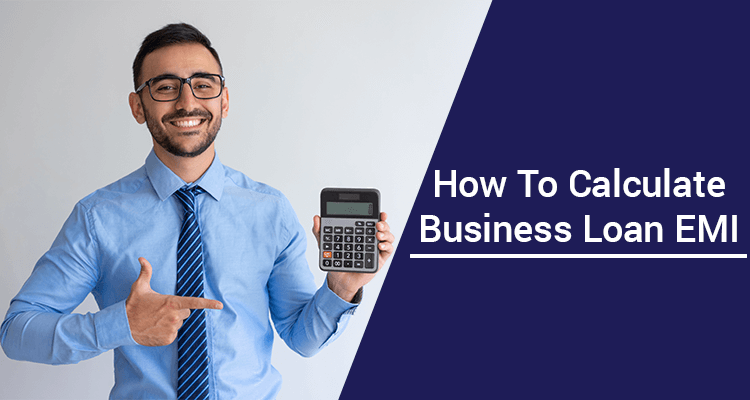 Every business, no matter its size, location or the sector it operates in, needs an office space or a factory, or some equipment and machinery, and staff and suppliers that need to be paid regularly so to establish itself in the marketplace. All these expenses can be met only if the business has enough financial resources.
Often, this means the business owners have to take a loan from a bank or a non-banking finance company. While entrepreneurs can take a personal loan or a gold loan if they need a smaller loan to meet their short-term requirements, it is usually better to opt for a business loan.
Business Loans
Broadly, banks and NBFCs offer two types of business loans—unsecured and secured. An unsecured loan doesn't require the borrower to pledge any asset with the lender as a collateral, but it is typically smaller and for a shorter duration. Lenders approve unsecured loans after reviewing the sales or cash flow of a business.
A secured loan does require a collateral, and is the more appropriate choice if the borrower needs a larger loan for a longer duration. However, the amount that lenders offer under unsecured or secured loan varies. For instance, some lenders have a limit of Rs 25-30 lakh for an unsecured loan while others offer up to Rs 50 lakh or more.
The loan approval process as well as terms and conditions such as repayment tenors, the interest rate and end-use restrictions also vary widely. Irrespective of the terms and conditions, all loans need to be repaid with interest. The most common method of repayment is through equated monthly instaLlments, or EMIs.
Calculating The EMI
The EMIs, as the name suggests, are monthly payments and include portions of the principal amount borrowed and the interest charged on the loan.
The interest rates on business loans start as low as 10-12% per annum in the case of large banks and go up to 20% or more in the case of NBFCs. Many NBFCs, however, offer flexible repayment options and even customize the payment cycle as per the cash flow cycle of the business.
The EMI depends on the size of the business loan, tenor and interest rates. A shorter tenor typically attracts a higher interest rate and longer period has a lower interest rate.
As an example, let's calculate the EMI of a Rs 10 lakh unsecured loan for two different tenors.
A Rs 10 lakh loan for a five-year-period at an interest rate of 12% will result in an EMI of Rs 22,244. Over the duration of the loan period, the total interest payments will be Rs 3.34 lakh.
The same loan amount but for a two-year period and 16% rate of interest, the EMI shoots up to Rs 48,963. The total interest outgo over the entire loan period would be Rs 1.75 lakh.
Conclusion
There is no dearth of choices when it comes to taking a business loan. The EMI on a business loan depends on the loan amount, the tenor and type of loan. Many lenders provide an online calculator for the borrowers to check the actual EMI they would have to pay.
Another point to note is that the interest rate on a secured loan would be usually lower than on an unsecured loan for the same amount and tenor, so the total interest outgo would also be lower.