How Proprietorship Company Employees Can Avail A Personal Loan?
Personal loan can be used to meet unexpected financial needs. But what about employees from a proprietor company how can they avail a personal loan. Read to know.
21 Nov,2022
11:51 IST
4 views
1 Like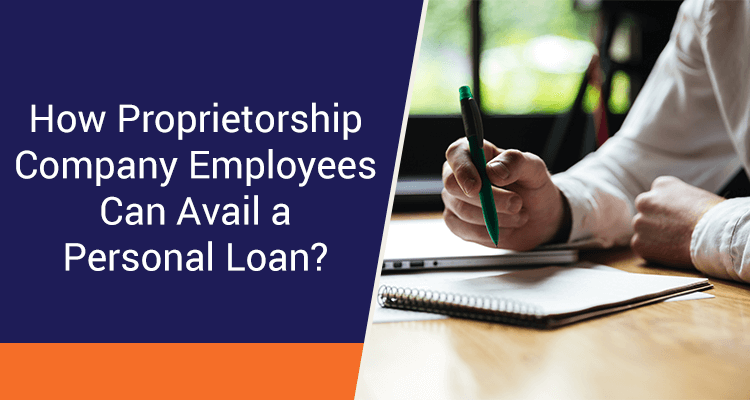 When an individual needs some additional money urgently, for instance to pay for an emergency surgery or to meet the gap in a family wedding or for renovating their home, a personal loan can come in very handy.
A personal loan from a bank or a non-banking finance company is a simple and quick way to borrow cash to fulfil immediate short-term financial requirements. A personal loan is an unsecured credit product, which means a prospective borrower doesn't have to provide any asset as security to the lender to avail the debt.
Most people, both salaried and self-employed, usually don't face any problem in availing a personal loan as long as they show proofs of stable income and a reasonably high credit score. But a few people, especially those working in the unorganised sector or in proprietorship companies, may sometimes find it difficult to get their loans approved.
Personal Loan For Employees Of Proprietorship Companies
Proprietorship firms are privately held business entities that are usually owned by one person, or the proprietor. These firms are not listed on any stock exchanges, and are typically small or medium-sized enterprises.
Like other borrowers, employees of proprietorship firms must submit the following documents to obtain a personal loan:
• Duly filled loan application form;
• Age and identity proof: Either one of PAN card, passport, voter ID, driving license or Aadhaar card;
• Proof of residence: Electricity or gas bills, passport, voter ID, driving license or Aadhaar card;
• Income proofs: Recent bank statements, salary slips or income tax return forms.
However, lenders may be cautious of approving loans to employees of such firms based only on their incomes and credit scores. So, employees of proprietorship firms may have to submit additional information to lenders during the loan application process as banks and NBFCs may seek stronger proof of their ability to repay the money on time.
There are a few measures employees of a proprietorship firm can take to get a personal loan approved.
Demonstrate Stable Income:
Employees of proprietorship firms should show a stable source of income with adequate proofs such as salary slips and bank account statements. Any additional sources of income, such as rent from a property, should also be disclosed to convince the lender of their repayment ability.
Pay Off Existing Loans:
A borrower should try to close existing loan accounts before applying for a new loan. If fully repaying an existing loan is not possible, borrowers should still try to reduce the outstanding amounts and lower their debt-to-income ratio. This will increase their disposable income as well as their loan eligibility.
Maintain A High Credit Score:
Lenders typically look for a credit score of 750 or above. A person can maintain a high score by repaying loans timely. A high score not only helps in quicker approvals but also in getting a higher amount sanctioned and at competitive interest rates.
Compare Lenders:
Before applying for a loan, prospective borrowers should thoroughly compare eligibility parameters, interest rates and repayment terms of several lenders. They should also find out if their proprietorship firm has tie-ups with any lender. This would increase their chances of securing a personal loan.
Avoid Multiple Loan Requests:
Multiple applications can prompt the lenders to make hard inquiries on the borrower's credit report and could make them look like risky customers, making rejection more likely.
Conclusion
Taking out a personal loan is usually a simple affair. It requires only some basic paperwork that can be completed within hours and many lenders approve personal loans in just a day or two. However, employees of proprietorship firms may sometimes face a few niggles in getting their loan approved. To avoid hassles, such borrowers should compare lenders, reduce their existing loans, maintain a high credit score and show adequate income proofs.