Don't Have Insurance? Here's How A Personal Loan Can Help
Personal loan can be used by an individual to meet any various emergency need such as education expenses, medical bills etc. Read to know can you use personal loan for your medical expenses.
6 Oct,2022
12:53 IST
4 views
41 Likes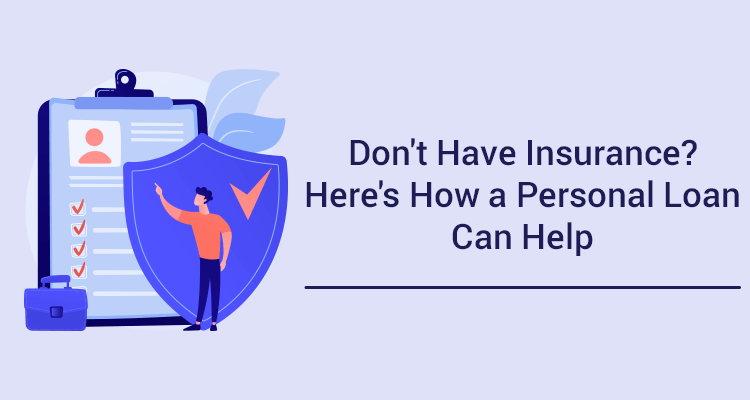 A major medical emergency can strike anytime and can cripple almost anyone's finances. While medical insurance is the best solution to hedge against such an eventuality, most people in India unfortunately do not have one.
So, when an unforeseen medical expense hits them, they often find themselves unable to pay the steep bill and must then borrow money to get out of the sticky situation.
This is where a personal loan can come in very handy. A personal loan is essentially an uncollateralized loan where a person does not have to pledge any asset to borrow money.
All one needs is a good credit history and a clean financial record, and one can easily avail a personal loan. Even if a borrower has a less than ideal credit score, he or she can get a personal loan, albeit at slightly higher interest rates.
Near-instant approval and a quick disbursal in a matter of just a few hours make personal loans very convenient and one the most preferred ways to manage medical expenses especially in an emergency.
Criteria For Getting A Personal Loan
If a borrower applies for a medical emergency loan from a bank or a non-banking finance company (NBFC), they need to fulfill some of the following criteria:
• He or she must be a citizen of India
• They should be between 20-60 years of age
• They should have a regular income, whether as an employee or from their own business
Application For A Personal Loan
Just as for any other personal loan, applying for a personal loan to meet medical expenses is easy. All one needs to do it is apply online on the lender's website or app and fill out all the requisite details like name, date of birth, address, employment details, and bank account details.
While filing the application one needs to submit basic know-your-customer documents like Aadhaar number, PAN number, income proof (if needed), and proof of address.
Assessment:
Once these documents are uploaded, the lender will assess the borrower's creditworthiness basis their credit history and CIBIL score and then make them a loan offer.
Offer And Disbursement:
Once the loan offer has been accepted by the borrower, the money is disbursed to the borrower's bank account within a matter of hours.
Repayment:
The repayment process is equally simple, and the borrower can pay back the loan and the interest online in monthly instalments. Most good lenders also give their clients an online account where they can easily see their repayment history and schedule.
Interest Rate:
The better the borrower's CIBIL score and credit history, the better the interest rate they can hope to get from the lender. Many lenders also offer the borrowers several value-added services.
Conclusion
A personal loan is a good alternative to fund medical emergencies if you do not have health insurance. You can fund a slew of medical emergencies with no restrictions. The loan will allow you to fund hospitalisation costs, paying for surgeries or post-operative therapies as well as for procuring medicines or any other medical aids or equipment needed to help a person recover.
Most good lenders also offer flexible repayment tenors so that you can repay the loan and interest without stretching your financial resources while you or a family member are in a medical emergency.