How A Personal Loan Can Help You Deal With Liquidity Crisis
Personal loan can be used to meet cash need or any financial crunch. Read to know how personal loan can be useful to deal with liquidity issues.
7 Oct,2022
17:21 IST
4 Views
76 Likes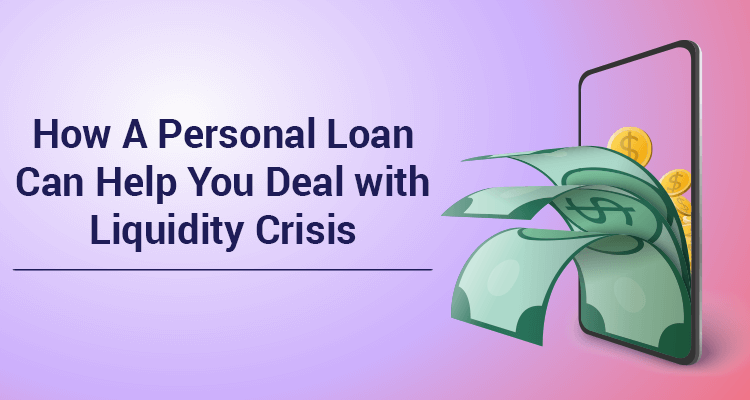 There are incidents in life that are beyond one's control. Be it a job loss or a physical ailment of a family member, it is easier to deal with a crisis if one is financially prepared. But what if one isn't prepared and requires money quickly?
A liquidity crisis is a financial situation characterized by a lack of cash that any individual can face at any time. At such times, a personal loan can be the ideal solution to deal with the liquidity crisis.
What Is A Personal Loan?
A personal loan is money borrowed from a lender and paid back through fixed monthly installments. The loan amount one qualifies for is based on the person's credit history and personal income.
What makes the personal loan popular among people is that the loan amount can be used for any purpose, without any pre-conditions. It can be used to refinance old loans, consolidate debt, cover medical expenses, meet travel expenses, cover daily operational costs in business, pay off college fees or splurge on a wedding.
Unlike a home loan or a car loan, a personal loan is unsecured in nature. This means the borrower need not pledge any collateral to banks or non-banking financial institutions. Because of this, the interest rate charged on a personal loan is slightly higher than home loan or gold loan.
Anyone who has a regular income source, whether a salaried individual or a self-employed professional, is eligible to apply for a personal loan. The eligibility criteria also include other factors like the credit score, the institution one is employed with, income, age, etc. If an applicant does not qualify the eligibility criteria of a personal loan, a guarantor or a co-applicant can help convince the lender to sanction the loan.
Here's how a personal loan can help one to deal with liquidity crisis:
• Easy And Convenient:
Compared to other loans such as home loans and car loans, personal loans are easy to apply and qualify for. All a borrower needs to do is to fill the application form and submit the required documents. Most lenders allow borrowers to apply online from the convenience of their home.
• Quick Approval:
Since personal loans are taken to meet some urgent requirements, the loan approval process and its disbursal happens in a short amount of time, which is typically just a couple of days.
• Flexibility:
Unlike a home loan or car loan, the funds of the personal loan can be utilized for any purpose.
• Easy Documentation:
There is minimal paperwork required for personal loans. Borrowers only need to submit KYC documents and financial statements. The paperwork further reduces if it is a pre-approved personal loan.
Conclusion
A personal loan, as the name suggests, is the money that is borrowed for any personal activity. The collateral-free nature of the loan makes it easier to apply for as compared to other loans. The loan terms and the interest rates on personal loans vary from lender to lender, so it is best to do a thorough analysis before taking the final decision.
The biggest advantage of a personal loan is it can help to meet a liquidity crisis quickly. It can be used to pay hospital bills, plan a destination wedding, pay college fees, or even meet a business expense.