How Much Time Does Personal Loan Approval Take? 
Personal loan is a good option at a time of financial crisis to overcome monetary crunch. Read to know how long does it take to get a personal approve.
30 Sep,2022
10:45 IST
2 views
4 Likes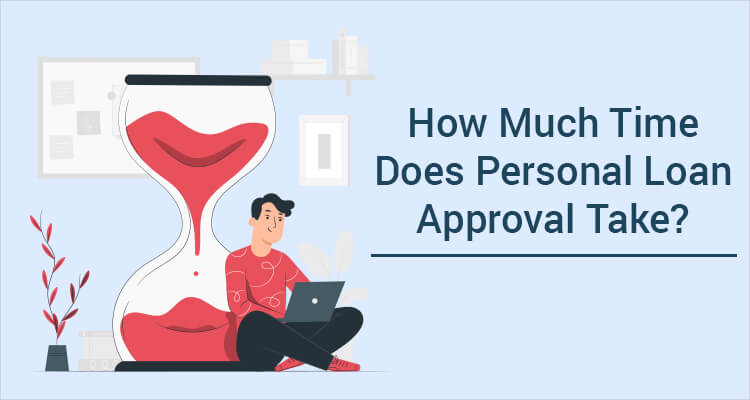 Personal loans are a good option if you need immediate funding during a financial crisis. It serves multiple purposes, including funding educational expenses, medical expenses, wedding expenses, holidays, consolidating debt, and much more. A personal loan does not require collateral and includes less documentation than a home loan or other types of loan.
But how long does it take to get a personal loan approved? Read on to learn more.
How Long Does It Take To Get Approved For A Personal Loan?
A primary factor affecting your loan approval time is where you apply for it. There are different lender options available with similar or differing loan application processes.
1. Online Lenders
With an online lender, application, approval, and payments are done online. Thus, it is convenient, especially if you like to manage your finances through websites or mobile apps.
You can apply online in just a few minutes and get approved equally quickly. You can expect to receive the funds upon approval in one or two days.
2. Banks
Many people have an account with a traditional bank and look to them first when they need a personal loan. However, many banks have high credit score requirements and higher interest rates.
Getting approved for a loan and receiving funds takes a few hours if you already have a bank account. In some cases, it may take up to a week.
3. Credit Unions
A credit union can assist members in obtaining competitive terms and interest rates for various loans, including personal loans. A union member will receive the lowest interest rates and personalised service.
You can get approval the same day you apply if you meet all the requirements. Following approval, funds usually take one to seven days to arrive.
How To Get A Personal Loan Faster
Here are some tips you need to know if you want to get personal loans approved quickly.
1. Apply Online
When you apply online, you have a better chance of getting your loan approved faster than if you visit the lender's branch. The majority of lenders offer online loans with quick approvals.
2. Check Your Credit Scores
You must check your credit score before applying for a personal loan. Knowing your credit score will help you determine whether or not you'll be approved, even if there are no errors.
3. Gather The Necessary Documents
Make it easy for your lender to approve your loan. Provide any necessary documents required during the loan process. Fraudulent or incorrect information could lead to application rejection, forcing you to reapply once the details are corrected. You should include proof of your income, any debt you currently owe, and your personal information.
Getting a personal loan approved quickly can be a saviour during emergencies. Follow the tips above to get your loan approved as soon as possible.
FAQs
Q1. What is the approval time for a personal loan?
Ans. The personal loan approval time can take anywhere from one day to seven days, depending on your lender.
Q2. What are the documents required for a personal loan?
Ans. The documents required include:
• Identity proof
• Address proof
• Bank statement of previous three months
• Two latest salary slips