How Instant Personal Loan Apps Have Disrupted The Financial Space
The addition of the suffix tech to finance has disrupted how the financial industry used to lends and borrows. Read to know more here!
1 Dec,2022
11:45 IST
7 Views
245 Likes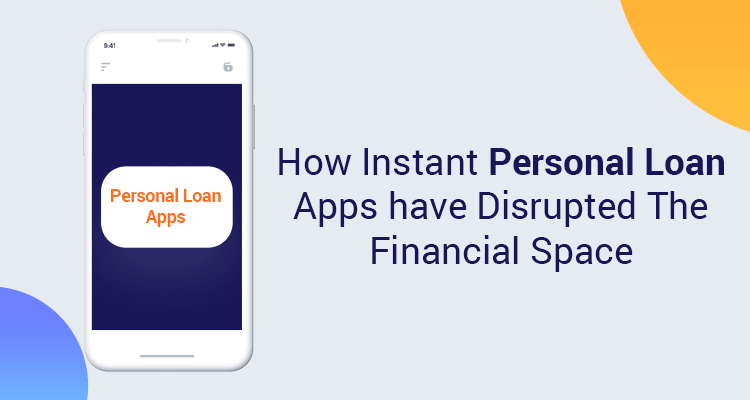 Technology has been one of the most potent catalysts in developing the global lending industry. From filling out loan application forms to loan disbursement, each process is easily accessible via the online interface. The evolution of technology has laid the foundation of a new lending arrangement called 'Digital Lending.'
Today, multiple apps offer instant personal loans at affordable interest rates. In addition, you can employ these portals to pool funds to meet unplanned expenses.
What Are Instant Personal Loans, and How Do They Work?
Instant personal loans are fully-digital settlements carried out online. Here, all vital processes involved in loan sanctions take place via the web or mobile applications of financial lenders. For example, you can apply for a loan, submit the documents, complete the verification, track the progress of your application, and receive money digitally using these apps. These advanced mobile applications help customers to access all the lending resources and products in one place.
Lenders use modern technologies like Artificial Intelligence, machine learning, cloud computing, and data analytics to streamline customer loan processing. These new-age tools help instant personal loan providers offer the highest security, governance, and transparency standards. Additionally, they ensure proper compliance with the statutory guidelines for a smooth lending experience.
How Instant Personal Loan Apps Disrupt the Financial Space?
• Simplified Processing
Instant personal loan providers adopt a seamless online path for loan processing. Limited paperwork, quick e-KYC verification, and digital transfers make instant loans a potent choice for customers. To access loans, you must register on the lender's portal, upload the requested documents, and choose the loan amount and tenor. Then, the lender verifies your papers. When satisfied, they disburse the payment within hours.
• Easy Eligibility Norms
A good credit score can secure you a low-interest loan with flexible tenure. Contrarily, a low credit score can shrink your chances of loan procurement. However, you can secure funds with an instant loan even with a low credit score. Lenient and flexible norms of digital instant loans are a boon for customers with no credit score or poor credit history. Taking these loans and ensuring timely repayments can help them create a strong credit report.
The Red Flags
Instant personal loans can be risky if taken from fraudulent portals. Sometimes, online loan providers lure customers by offering unrealistic schemes. This way, they trick innocent people and steal their money. Thus, you should act prudently and rely on trusted lending platforms with a good market presence and clientele.
Conclusion
Financial disruptions can compel you to seek help from instant personal loan providers. These firms offer quick loans to customers with limited paperwork and verification procedures. The interest rate on such loans is generally higher than the market rate because of lenient eligibility guidelines. However, you can secure them even with a poor credit history. With instant loan apps, lenders are reforming the fintech industry, making it more accessible and secure.
FAQs
Q1. What is a good credit score for securing personal loans?
Ans. Different lenders have distinct eligibility norms for loan takers. Generally, a credit score of 750+ can make you a potent candidate for loan sanctions.
Q2. Can I use my instant personal loan for my education?
Ans. Yes, you can use your loan for education expenses. Personal loans do not have a fixed purpose. You can use them to pay your child's fees, construct the house, or plan a family trip, among many other possible use cases.