How Does A Gold Loan Help You In Different Sectors For Multiple Purposes?
A Gold loan can be very useful to meet various personal needs. Read to know how does a gold loan help in different sector for multiple sectors.
30 Nov,2022
12:26 IST
6 Views
2 Likes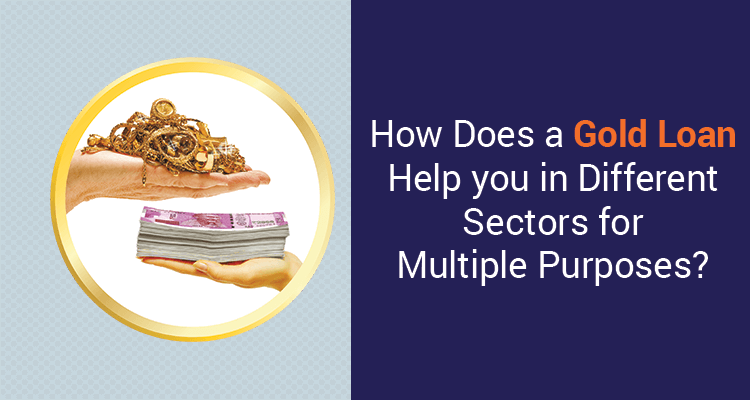 Gold is a haven in the investment world. Often, it is a financial backup for most Indian households. It is a multi-purpose asset which can help you secure funds by pledging your gold as collateral.
A gold loan is a secured form of lending where you borrow an amount against your gold articles. It is a great way to fulfil your urgent, short-term, or long-term cash requirements.
How Does A Gold Loan Act As A Multi-Purpose Loan?
The Indian economy has come a long way regarding perceptions of credit. People are starting to use credit to cover emergency expenses, big-ticket purchases, plan their finances, and balance income, expenditures and investments. With various loan options in the market, from unsecured personal loans to secured home and auto loans, there is no shortage of options to meet your financial needs.
However, nothing beats a gold loan in terms of convenience and flexibility. One of the primary reasons is the wide availability of this precious metal in Indian households. The high loan value ratio (LTV) of gold loans (up to 75%) is another reason for their increasing popularity. The lack of end-use restrictions and the availability of online gold loans also contribute to the general convenience of using gold deposits for multi-purpose financing.
How Does A Gold Loan Work In Different Sectors?
The Reserve Bank of India or RBI does not impose any regulation on the use of gold loans, making it convenient for any purpose or sector. It can be valuable in the following areas.
1. As A Business, Small Business, or Startup Loan
Gold Finance has the potential to meet the working capital needs of companies of all sizes. With high LTV and competitive interest rates, gold loans are ideal for financing a new business or ongoing operational expenses. Gold loans offer a fantastic opportunity for rural women and young entrepreneurs to turn their ideas and plans into successful business projects.
2. Education Loan
There is no shortage of financial institutions in India and abroad offering education loans for college admissions. A key question, however, is whether the institution can access student loans, as banks usually only provide loans for admission to top-level universities. Due to their high security, gold loans present a viable alternative to student loans with no end-use restrictions and minimum eligibility criteria.
3. Medical Emergency Loan
Most medical emergencies occur without notice. However, leveraging your gold rather than depleting your hard-earned savings is a sound financial decision. The hassle-free loan application process, fast processing, and quick loan payouts make instant gold loans a great option to cover a variety of medical contingencies.
4. Other Purposes
The low-interest rates of gold loans and the freedom to use the loan amount for any purpose make gold financing an automatic choice to cover various expenses such as home renovations, large purchases, and exotic vacations.
Frequently Asked Questions
Q.1: Is it advisable to take a loan on gold?
Ans: Gold loan offers lower interest rates, flexible repayment terms, and no restrictions on their end-use. Hence, it is a good choice with no EMI hassle.
Q.2: Why should I opt for a gold loan?
Ans: Gold loans are multi-purpose and applicable across various sectors. Whether to pay college fees or get through a medical emergency, you can opt for a gold loan.