How Your Digital Footprint Will Affect Your CIBIL Score
Cibil score is a score to understand the repayment history of the borrower's when lending a loan. want to know about digital footprint data and how will it affect your cibil score. Read Now.
18 Nov,2022
18:46 IST
8 Views
42 Likes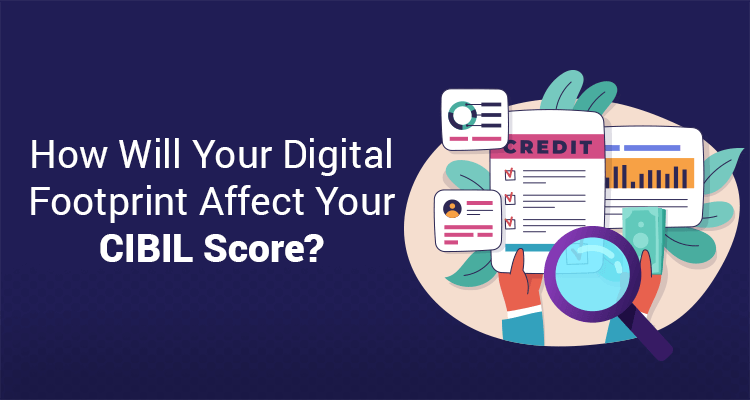 Credit scoring is an important parameter used by lenders to determine a potential borrower's eligibility. Traditional credit scoring systems fail to ensure high-end security to their core infrastructures, especially in the digital era. This incompetence has created room for the evolution of digital footprint analysis.
What Is Digital Footprint Data?
A digital footprint is a data pool that highlights your behavioural patterns based on your online presence. The information cluster can include data sourced from social media handles, web cookies, online reviews, etc. Financial and non-financial entities use digital footprints to support a secure online ecosystem where providers and users can thrive together as a single unit. They prevent monetary fraud, identity theft, data theft, etc.
Perks of Using Digital Footprint for CIBIL Scoring
• Assess Credit Patterns
Digital footprint analysis can help lenders provide convenient loans to the unbanked population. Advanced tools can help financial lenders strike a balance between a new customer and historical data to assess credit patterns effectively.
Fin-techs are unlocking new doors of loan accessibility for borrowers using AI and machine learning technology. These modern tools help entities to interact closely with customers, aiding them in making informed credit choices. The combination of AI and ML can assist in screening potential borrowers by correctly predicting their spending and saving patterns. Lower NPAs, quick loan processing turnaround times, and improved ROIs are some of the main advantages provided to lenders.
• Customer-Centric Lending
Fin-techs can use digital footprint data to improve their customer experience services. Firms can easily ensure more personalised and superior-quality user interaction with accurate customer information. Data mining and analysis allow lending systems to find the right lending product for a prospective customer. Additionally, the resources can help financial institutions decide upon loan collection policies per the credit risk involved.
• Use Of Alternative Data For Credit Scores
An excellent illustration of the digital footprint revolution is KYC. With KYC, lenders get seamless access to resourceful information about a customer, including their name, DOB, address, employment status, bank accounts, email, etc.
Sometimes, fraudsters falsely gain access to user data and utilise it to impersonate a rightful customer. With alternative data resources like KYC, firms can secure reliable data for a prospective borrower, verify it, and offer loans to only trusted individuals. Smartphone metadata, psychometric data, social media information, remittance history, utility bill payments, e-commerce merchant ratings, etc., are other alternative data sources that can help lenders find the most genuine customers.
Conclusion
With digital footprint analysis, lenders can ensure data safety with ease. They can use the collected information to validate your authenticity, credit behaviour, and online work interests. The process increases the efficiency of credit scoring by helping lenders find reliable customers with low-risk involvement.
FAQs
Q1. Why is your credit score important for loan providers?
Ans. Financial lenders use credit scores as an essential tool to assess your creditworthiness as a borrower. Issued by the top four credit rating agencies in India, the score helps you fetch a low-interest loan from any preferred entity. CIBIL score is the most trusted credit rating used by loan givers.
Q2. What is a good credit score?
Ans. Credit scores rank you based on your loan repayment history. A score above 750+ is considered 'good' by lenders. However, you become a priority customer with a credit score of 800+ and can secure a hefty amount at affordable rates from any top-rated firm.