How Can A Corporate Which Has CIBIL Issues Get A Business Loan?
The credit score of a owner helps to consider the creditworthiness of a business. Read to know how a corporate with Cibil issues can get a business loan.
26 Dec,2022
10:40 IST
4 Views
75 Likes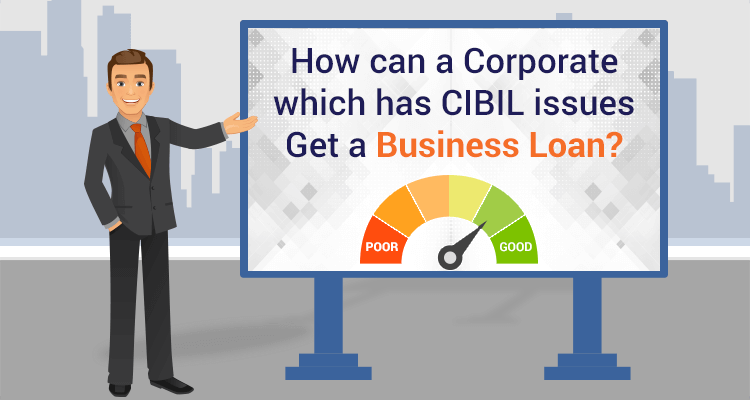 Business loans are becoming increasingly popular among startups, retailers, traders, and manufacturers. Business loans are perfect for financing working capital requirements, managing cash flow, training employees, hiring new staff, and purchasing plant and machinery for business expansion. The enterprise should, however, have a good credit/CIBIL score before applying for a business loan.
CIBIL scores range between 300 and 900, with scores above 750 being considered good for obtaining business loans. Those with low CIBIL scores may have to pay higher interest rates on their loans or even be denied a business loan altogether. Here's what you can do to get a business loan with a CIBIL score issue.
Getting A Business Loan With CIBIL Issues
1. Timely Payment Of Business Bills
Keeping up with the outstanding business bills and EMIs is extremely important. Not only does it help to improve the CIBIL score, but it also helps keep vendors and lenders happy.
2. Maintain A Low Debt Utilization Rate
Keep your utilization ratio below 30% when using revolving credit, such as an overdraft account. When you have a higher debt utilization percentage, your CIBIL score and creditworthiness will be negatively affected.
3. Correct Mistakes In Your Report
Credit information reports sometimes contain errors, although this is not common. It may happen because some events are not updated or mentioned correctly. In some cases, a fully repaid loan may still appear on a credit report, or a loan from another person may appear incorrectly on another person's report. Before applying for a business loan, check the credit report carefully and correct errors.
4. Get A Short-Term Business Loan And Pay Your EMIs On Time
You're demonstrating responsible credit behavior by taking out a short-term business loan that's well within your repayment limit and repaying EMIs on time. As a result, your CIBIL score improves when applying for a substantial business loan. Use a business loan calculator to find out how much your EMI will be.
5. Shop Around
Before assessing a loan application, some lenders require high credit scores. It is particularly true for banks. NBFCs, however, are more flexible, and if you shop around, you can still get a business loan if you have a low CIBIL score or rank.
6. Consider Alternative Sources Of Funding
The best option if you need funds urgently and your CIBIL score is low is to look for alternative funding options, such as an overdraft secured against a fixed deposit, a secured business loan against your property, adding co-applicants who meet the required criteria, or finding an investor willing to take a stake in your business in return for their investment.
A business owner's CIBIL score or enterprise's CIBIL rank is essential for a lender to consider an unsecured business loan application. It serves as an indicator of a borrower's creditworthiness. However, following the tips above, one can still get a business loan with a CIBIL score issue.
FAQs
Q1. Can you get a loan with a low CIBIL score?
Ans. Low CIBIL scores do not prevent you from getting a loan.
Q2. Is there a CIBIL score for companies?
Ans. An organization CIBIL rank ranges from 1 to 10, where one is the best and ten is the worst, just as an individual's CIBIL Score ranges from 300 to 900.