How A Co-Borrower Can Increase Your Personal Loan Eligibility?
Personal loan can prove to be excellent option to meet sudden expenses. Read to know more about co-borrower and how co-borrower can increase your loan eligibility.
30 Sep,2022
10:59 IST
2 views
74 Likes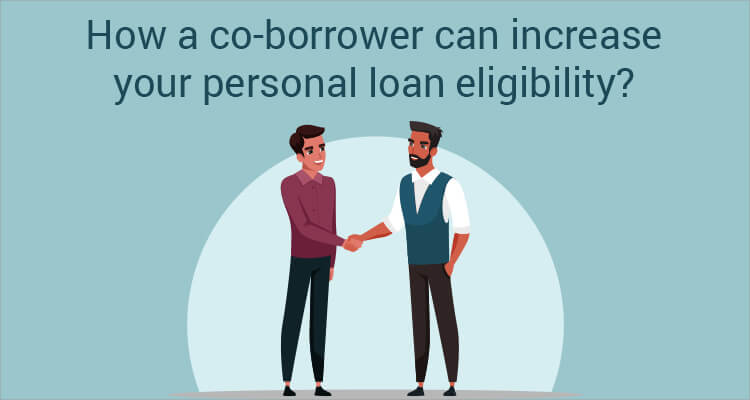 Sometimes people need additional financial support to meet sudden expenses. Personal loans are an excellent option in these situations. There is, however, a possibility that the loan amount you apply for exceeds your eligibility. In such cases, a co-borrower can be of great help. This article discusses the benefits of adding a co-borrower to your personal loan application.
Who Can Be A Co-Applicant?
• Spouse:
Every lender considers your spouse the most suitable co-applicant. You can apply for a joint loan account based on both incomes. Depending on the older person's age, the loan's tenure varies, and both spouses can claim tax benefits.
• Other Family Members:
You can include your mother, father, brother, or sister. A bank will only consider blood relatives when giving a loan. However, many banks don't consider brothers and sisters to be co-applicants.
Benefits Of A Co-Applicant
A co-borrower can offer several benefits to your personal loan application.
1. A Higher Income Makes You More Eligible For Loans
When determining your loan eligibility, lenders will consider your total income. Adding a co-applicant can fill the gap if the income is not sufficient. This way, both applicants' incomes combined help determine loan eligibility.
2. Lowers The Debt To Income Ratio
Loan applications are often rejected because of high DTI (Debt to Income) ratios. You can calculate your DTI by dividing your total monthly EMI by your monthly income. The DTI ratio decreases with a co-applicant since the incomes of both applicants are added together.
3. Helps You Avail Loan With A Low Credit Score
If the co-applicant has a high credit score, you can still be eligible for a loan even if your credit score is low.
4. Competitive Interest Rates
It is possible to get better interest rates if you have a co-applicant. Generally, lenders determine the rate based on the borrower's credit score, income and loan amount. You can negotiate lower interest rates if your co-applicant has a good credit history.
Factors To Consider Before Co-Applying For A Personal Loan
While co-applicants have many benefits, you should consider a few essential factors.
1. If you default on loan EMI repayments, it can affect your and the co-applicants credit score.
2. Co-borrowers will be responsible for repayment if the principal borrower cannot repay.
3. There are only a few lenders that provide joint personal loans.
4. A loan with a co-borrower can take a little longer to process than regular loans.
A co-borrower with a stable income and credit rating can help loan seekers qualify for higher amounts with lower interest rates. However, co-applicants should discuss all the conditions with the applicant before proceeding.
FAQs
Q1. Is it better to apply for a loan with a co-borrower?
Ans. Co-borrower can improve the chances of loan approval and terms. Therefore, apply with a co-borrower if your credit score is low or you don't meet the loan's eligibility criteria.
Q2. Does being a co-applicant affect your credit?
Ans. Yes. Your credit score could be negatively affected when the primary account owner fails to make timely repayments.