Impact Of CIBIL Score On Personal Loans
Personal loan is used by the individual to meet the unexpected financial crunch. Cibil score is considered by an lender before giving loan to borrower. Read to know more about how cibil score can impact loan.
28 Sep,2022
09:55 IST
9 views
10 Likes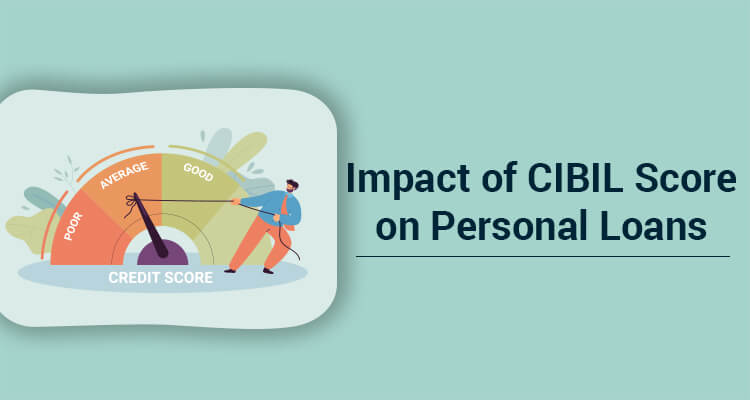 Easy access to loans can help you fulfill your urgent financial needs. Your credit history or CIBIL score is influential in approving these loans. This article elaborates on the impact of a CIBIL score on personal loans.
What Is A CIBIL score?
A three-digit numerical score representing your creditworthiness in a Credit Information Report or CIR is called the CIBIL score. A score out of 900 determines whether you can repay any debt. The ideal number to get loans approved quickly is 750 and above.
How Does Your CIBIL Score Impact Personal Loans?
Your CIBIL score plays an integral part in sanctioning your loan. A good CIBIL score of 750 or above can help you in the following ways.
• Improves Creditworthiness:
With a good CIBIL score, your potential lender believes you are creditworthy and can clear your dues on time.
• Loan Application Approvals:
A high CIBIL score accelerates the loan application process and saves you from long, painful waiting. With a high CIBIL score, you win the lender's trust, who in turn takes minimum time to approve your loan.
• Competitive Interest Rates:
The perfect CIBIL score allows you to avail of competitive interest rates. You have the chance to negotiate with the lender and compare different available rates in the market.
• Good Loan Amount:
Your CIBIL score decides the sanctioned amount of your loan. A higher credit score means you have a higher chance of getting the loan amount you need up to the maximum limit.
How Can You Improve Your CIBIL Score?
Follow the tips below to improve your CIBIL score for future financing requirements:
• Set Payment Reminders:
Paying your loan on time is crucial to maintain or improve your CIBIL score. Set payment reminders to ensure you make timely payments.
• Customize Your Credit Limits:
The credit utilization ratio significantly impacts your CIBIL score. Therefore, to maintain a good CIBIL score, you must stay below your credit usage as per the allotted limit.
• Avoid Too Much Debt Simultaneously:
Make sure the total debt you take at a specified time is minimal. More loans at a particular time give an impression of you being in an unforgiving cycle with insufficient finances.
• Opt For A Longer Repayment Tenor:
A more extended tenor means you have to pay lesser EMI every month, thus ensuring timely payments.
Frequently Asked Questions
Q.1: What is considered a good credit score?
Ans: CIBIL score ranges between 300 to 900. The closer your score to 900, the better it is. A score between 300 to 550 is considered poor, whereas any score apart from this is considered fair or excellent.
Q.2: What minimum CIBIL score is required for a personal loan?
Ans: While the eligibility criteria differs from lender to lender, most financial institutions favour a CIBIL score of 700 or above.