How Can A Corporate Which Has CIBIL Issues Get A Business Loan?
Business creditworthiness is captured through the credit score of the owner. Read on to know how corporate with a cibil issues can get a business loan.
28 Nov,2022
11:16 IST
6 Views
22 Likes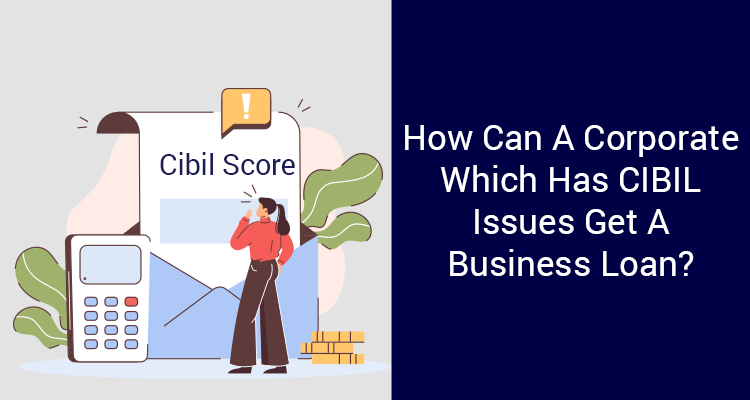 Business loans have become increasingly popular among startups, retailers, traders, and manufacturers. It helps meet working capital requirements, manage cash flow, train employees, hire new employees, and many other purposes. The enterprise must, however, have a good credit/CIBIL score before applying for a business loan.
CIBIL scores generally range between 300 and 900, with any value above 750 rewarding the borrower with lower business loan interest rates. However, a low or bad CIBIL score does not automatically mean that lenders will deny the loan application. But it is harder to get a loan at a relatively low-interest rate.
Businesses with CIBIL issues can obtain a hassle-free business loan by implementing the following tips.
How To Get A Business Loan If You Have CIBIL Issues
• Correct Mistakes
Credit information reports occasionally contain errors, although this is rare. The discrepancy could be due to an incorrect mention or not updating certain events. For example, if a borrower fully repaid the loan, it may still appear on a credit report, or another person's loan might show up incorrectly.
Hence, before applying for a business loan, carefully review the credit report and correct any errors.
• Improve Score
Increasing the credit score is another option. Paying back some outstanding debt, especially unsecured loans, can help. A borrower can reduce credit usage and pay EMIs promptly on outstanding loans when using multiple credit cards and maxing out their upper limits.
• Shop Around
Some lenders require high credit scores. NBFCs are more flexible and can provide a business loan to borrowers with low CIBIL scores. A borrower can consider NBFCs to get a business loan with low CIBIL.
• Get Overdraft Facility
Overdrafts are loans in which the lender grants a total credit limit. An interest rate is calculated based on the utilised amount only, not the total sanctioned amount.
Those who have good relationships with their banks and manage current or savings accounts can avail of overdrafts and use them for business purposes. Financial institutions generally do not check CIBIL scores before sanctioning credit.
Conclusion
For unsecured business loans, a lender considers a borrower's CIBIL score or CIBIL rank when deciding to sanction the loan. The score can, however, contain mistakes from time to time. However, borrowers can resolve these issues. It is also possible for borrowers to improve their credit scores to give lenders more confidence in advancing a loan. Alternatively, some lenders are more flexible, and a borrower with a low credit score can reach out to them.
FAQs
Q1. How can you correct a CIBIL report?
Ans. You can file an online dispute with CIBIL to remove a wrong entry from your credit report.
Q2. What is the required CIBIL score for an MSME loan?
Ans. In most cases, MSME Loans require a credit score of 750 or higher, but you can get one with a lower score as well.