Is A Good Cibil Score Required For A Gold Loan?
Cibil score is considered as an important factor when opting for a loan. Read to know more about the required cibil score for a gold loan.
28 Sep,2022
09:11 IST
10 Views
31 Likes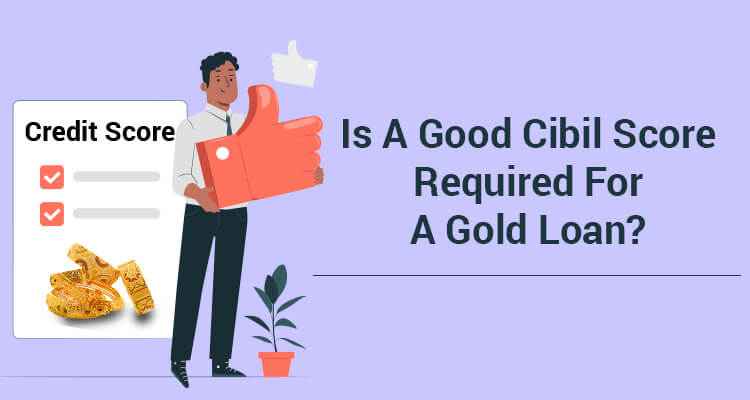 Bad debt is one of the biggest challenges for financial institutions. It also weighs heavily on the borrower and can lead to many consequences. To ensure maximum safety and credibility, banks scrutinize the borrower's credit history through the CIBIL score for various loan types. They also check for collateral as security if the credit score isn't up to par.
This article highlights whether a good CIBIL score is necessary for a gold loan or not.
What Is A Gold Loan?
A loan where you pledge your gold items or ornaments in exchange for financing is known as a gold loan. Gold assets act as collateral or security to the financial institution in gold loans. Therefore, it is one of the quickest and easiest ways to fulfill financial obligations.
What Is A CIBIL Score?
The CIBIL score is a three-digit score that determines your creditworthiness. Your score is derived from your credit history on your CIBIL report or Credit Information Report (CIR). The CIR is an individual's credit repayment history across credit types and credit institutions for a specified period.
Is A Good CIBIL Score Required For A Gold Loan?
A good score is a non-negotiable prerequisite for most types of loans in India. However, a gold loan is a secured loan where you pledge your gold as collateral. Therefore, you can receive the loan even with a below-average credit score. A good credit score also acts as a catalyst when deciding on the loan amount, as you receive only a percentage of pledged gold as financing.
The CIBIL score provides a sense of security to the lenders that the borrower will repay the loan on time. With a gold loan, the pledged gold acts as a security. Therefore, a CIBIL score is essential but not mandatory for a gold loan.
Does A Gold Loan Affect Your CIBIL score?
Typically, the CIBIL score accounts for your credit repayment history. Paying off your loan on time will improve your CIBIL score, whereas negligence can hurt your credit score, jeopardizing your ability to borrow soon. The CIBIL score may not be the sole major player in availing of a gold loan, but it certainly affects your CIBIL score depending upon your timely or delayed payments.
Benefits Of A Gold Loan
• Quick and Easy:
A gold loan is one of the easiest and fastest options to avail loan in India. Usually, lenders sanction a gold loan within a few hours. However, the bank decides the maximum and minimum loan amount.
• Minimal Documents:
As you are providing gold as collateral to avail of a gold loan, the financial institution does not require extensive documentation like those required for personal or mortgage loans. Most institutions only need an ID card, proof of address, passport photo, and proof of signature. Identification and residency documents include but are not limited to voter ID, driver's license, passport, or Aadhaar card.
• Lower Interest Rate:
Since you are pledging gold in a gold loan, the interest rate becomes comparatively lower than other unsecured loans. The gold loan interest rate depends on the loan amount you are borrowing against the percentage of the pledged gold.
Frequently Asked Questions
Q.1: How much loan can I get by pledging my gold?
Ans: In India, the RBI has capped the maximum amount of gold loan at 90% of the pledged gold value. However, the total amount sanctioned to you is at the lender's discretion, depending on your credit score and the quality of pledged gold.
Q2. Do gold loans have a high interest rate?
Ans. The interest rates on gold loans begin at 7% p.a. It varies from one lender to another.