Gold Loans To De-Stress Your Funding Needs
Availing a gold loan can support your finances during a financial crisis. So, why wait?
3 Oct,2022
05:06 IST
11 views
31 Likes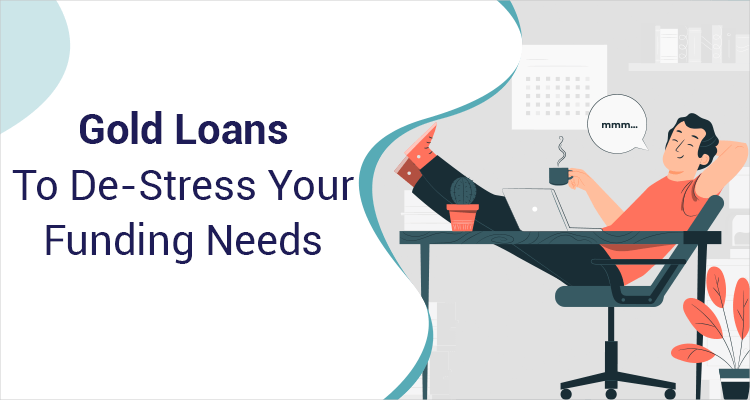 Gold is considered a haven majorly due to its nature of storing value. In India, we reserve gold to use in times of need. An emergency fund has become essential post-COVID-19. With gold at home and gold loan providers a few clicks away, it helps you get emergency funds without stress.
Situations Where Gold Loan Can Help You De-Stress With Emergency Funds
Business:
A cash crunch can put your business plans on hold. This hurdle could mean delaying a strategic partnership or cancelling a purchase. In such a scenario, a gold loan can help you meet your financial requirements quickly.
Education:
One of the best features of a gold loan is that it doesn't require a credit history. Therefore, you can opt for a gold loan if your child's education needs urgent funding.
Medical Expense:
We have seen more medical emergencies in the past two years, and gold loans have proven to be the best option for people. Quick disbursals and lesser paperwork have made it one of the best alternatives to fulfilling their cash needs.
Wedding:
One thing Indian parents prepare for their kids since or maybe before their birth is their wedding. Planning, organizing, and everything in between incur huge costs. Gold loans can keep the happy event stress-free.
Property Purchase:
Mortgages accrue vast amounts of interest. Therefore, you may invest all your savings, bonds, and assets in this loan. Gold loans alone aren't enough to buy a home, but they play an essential role. A gold loan can help you reach these small goals without paying the high-interest rates of a personal loan.
Features Of Gold Loans - The Stress-Free Way To Generate Emergency Funds
Speedy And Easy Disbursal:
Gold loans consist of minimal documentation and paperwork and quick disbursal after the gold purity check.
No Need For A Credit History:
One of the best features of a gold loan is it doesn't require a credit score or a credit history. As long as the purity of gold fulfills the eligibility criteria, there are no barriers to avail of a gold loan.
No Processing And Foreclosure Fees:
In addition to quick disbursals, gold loans don't add a layer of fees for processing or foreclosure. A foreclosure fee means, in case you repay the loan amount with interest before time, there is no extra cost.
Lower Interest Rates:
The interest rate on gold loans ranges from 7.15% to 12%, which is significantly lower than the rates on personal and credit card loans.
Availability Of Digital Loans:
Gold loans are available in a few clicks. You don't need to visit any branch physically. Instead, after applying for it online, a representative would visit your place to check the gold purity. You can complete the entire process in less than 30 minutes.
Easy To Calculate:
You can calculate your interest rate and gold amount value efficiently with the help of a Loan Calculator.
It's a no-brainer that a gold loan is one of the best ways to fulfill your emergency cash needs while putting your idle gold to work. It is a quick, easy, and hassle-free way of funding your stressful situations.