Gold loan Vs Instant loan? What Should You Select
Are you confused to know which loan is better, gold loan or instant loan? Read to know in details and select accordingly.
15 Sep,2022
10:14 IST
5 views
5 Likes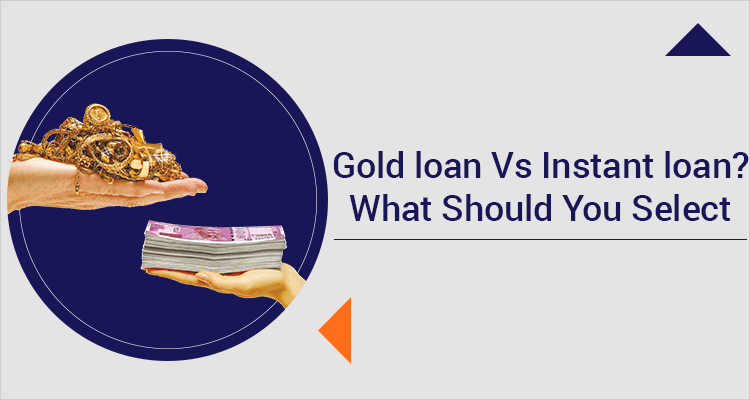 If you're in dire need of cash, an instant loan could be your sole option. However, you can also secure more money with a gold loan. Then, why would someone take out a gold loan instead of an instant loan? In this article, let's explore some of the most common reasons why many people choose to go with gold over green when they need extra money in a hurry.
Gold Loans vs Instant Loans: What Sets Them Apart?
A gold loan is typically known as jewellery financing. The lender loans you money in exchange for collateralised jewellery, which can be valuable new or old pieces. The borrowed funds secure necessary expenses or purchases. A loan repayment period typically ranges from six months to 24 months, and the interest rate is usually lower than personal or business loans.
Instant loans are quick and convenient and provide borrowers with money they can use immediately. An important thing to know about this type of loan is that these transactions are short-term loans. This indicates that borrowers will have to pay back the funds at an agreed-upon date, and often involves a higher interest rate than other types of loans.
Why You Should Opt For A Gold Loan Over An Instant Loan
The most significant advantage of taking out a gold loan is that, unlike most instant loans, it won't leave you in a position where you need to pay high monthly interest payments.
Gold loans also provide much more flexibility to repay your balance loan. On average, most lenders will allow their customers to take up to one year to pay back their balance. In contrast, many instant loans have strict monthly payment plans, which make it challenging to save up enough money at once to pay them off.
Gold loans don't require any type of collateral, as it only uses your jewellery as collateral in most cases. When approving a gold loan, you don't need to have an excellent credit score or high-income levels – even if your credit score isn't stellar and/or your income is low.
You can usually obtain these types of loans when there are no other borrowing sources, and you can't get a traditional bank loan.
You can also stick to necessary interactions with the lender and use secure online banking systems instead. The transaction process is much faster, as most lenders don't require their customers to go into a local branch office to pay back their balance.
FAQs:
Q.1: What are the differences between instant loans and gold loans?
Ans: Instant Loans require borrowers to have more capital upfront and will charge higher interest rates to compensate for a shorter repayment period. In contrast, Gold loans require collateral but possess lower interest rates, which can help borrowers easily meet their goals.
Q.2: What are the interest rates for gold loans?
Ans: The rates vary, but they range between 7-13%, depending on the gold loan scheme you choose.