Gold Loan - The Ultimate Solution For Short-Term Capital Needs
Gold Loan is one of the best options when it comes to fulfilling your short-term financial needs. Want to know how?
29 Sep,2022
04:51 IST
12 Views
9 Likes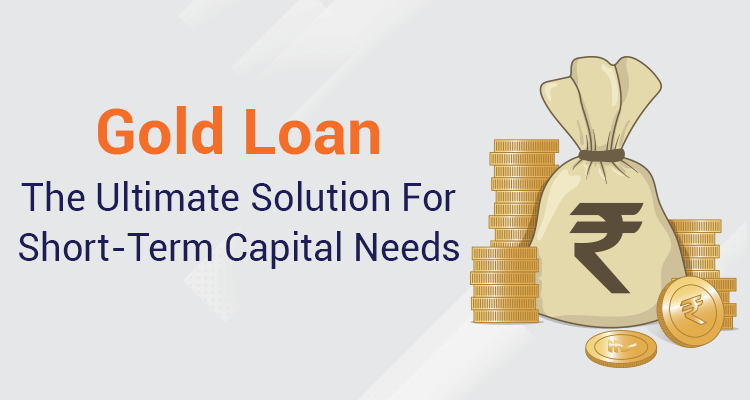 You may need immediate funds to pay for marriage, education, rent, medical expenses etc. Gold loans provide an effective avenue to raise quick capital by pegging physical gold. Here's why you should opt for a gold loan.
9 Reasons Why A Gold Loan Is The Best Option For Short-Term Capital Needs
Here are nine reasons which make a gold loan an ideal product to raise short-term funds:
Easy Application Process:
The gold loan application process is quick and approved within five minutes. The application form is simple and requires filling in a few basic details and completing KYC.
No Need For A Credit History:
Unlike other loan types, you do not require a credit score while applying for a gold loan. You can raise funds even without a financial history or blueprint.
Less Documentation:
Unlike the high amount of documentation required in other loan types, a gold loan only needs a few documents to prove identity, address and income. The procedure is simple and entirely online.
Availability Of Large Funds:
The loan amount in gold loans is offered based on the total value of the gold articles, allowing individuals to raise considerable funds. The higher the gold value, the higher the loan amount.
Speedy Disbursal:
Gold loans have the quickest loan disbursal. If availed of from a reputed lender, the amount is disbursed within 30 minutes of application.
Repayment Options:
Gold loans come with numerous repayment options similar to other types of loans to allow borrowers the flexibility to repay the loan at their convenience.
Security Of Your Gold:
When you take a gold loan, the lender keeps the pledged gold safe in steel-hardened vaults with 24/7 security. An insurance policy also backs the pledged gold.
Options For Tenure:
Gold loans have numerous tenure options for better customization. The borrower can choose the loan tenure to adjust the EMI payments.
Minimal or Zero Processing Fee:
When you take a gold loan from an experienced entity, especially an NBFC, there is a minimal or zero processing fee levied on the borrower.
Conclusion
Almost every household has physical gold stored in bank lockers. However, you can use it to effectively raise immediate capital through gold loans. The application process is entirely online, ensuring that the terms are borrower-oriented to make it an ideal debt product.
FAQs:
Q.1: How much time is needed for the disbursal of a gold loan?
Ans: Gold loans have the quickest available disbursal time, where the loan is disbursed within 30 minutes of application.
Q.2: Do I have to provide records of usage of the disbursed gold loan?
Ans: No, there are no restrictions on the end use of the disbursed gold loan amount. You can use it for any purpose you deem fit.
Q.3: When do I get my gold back?
Ans: The lender gives back the pledged physical gold once the loan has been repaid completely.