Meaning Of FOIR & Its Effect On Personal Loan Approval
FOIR is essentially the debt-to-income ratio of an individual borrower. Read on to know about the FOIR meaning & its impact on personal loan approval.
28 Oct,2022
07:05 IST
3 views
24 Likes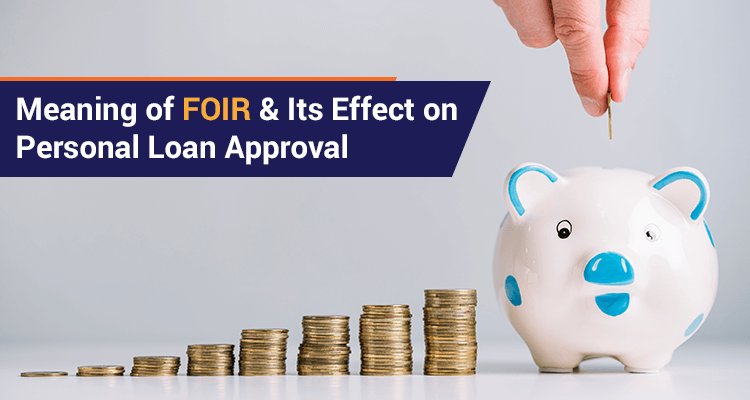 Personal loans help fulfil individual capital needs. A person can apply for a personal loan with a lender to pay their college fees or buy a home appliance such as a fridge or television. Personal loans have become choicest option during financial emergencies as the loan application process is entirely online, followed by quick disbursal of the loan amount.
However, similar to other types of loan products, personal loans also include numerous factors that affect the approval process. One of the most important is FOIR (Fixed Obligations To Income Ratio).
What Is FOIR (Fixed Obligations To Income Ratio)?
FOIR (Fixed Obligations To Income Ratio), also known as the debt-to-asset ratio, is loan parameter lenders use to analyse the eligibility of a borrower before approving the loan application. The fixed obligation to income ratio provides a detailed analysis of a borrower's financial history and represents their creditworthiness to repay the loan.
The FOIR provides valuable insights regarding the income of the borrower and how well-positioned they are based on their monthly income to repay the financial obligations. The FOIR helps the lenders to mitigate losses due to default by the borrower in loan payment.
The Effect of FOIR (Fixed Obligations To Income Ratio) on Personal Loan Approval
One of the best benefits of personal loans is the absence of the requirement of pledging an asset as collateral. However, a beneficial feature for the borrower, it increases the risk of losses for the lenders as they do not have any source to square off the losses if the borrower defaults on repaying the personal loan. Hence, lenders ensure that they analyse the borrower's creditworthiness to ensure they are financially capable of repaying the personal loan.
Lenders include the FOIR (Fixed Obligations To Income Ratio) to determine the borrowers' repayment ability by including it in the eligibility criteria for the personal loan. The FOIR is calculated out of 100%, and lenders demand that the FOIR must be between the range of 40%-55%. The lower the FOIR, the higher the chances of lenders approving the personal loan.
Bottom Line
Lenders determine the monthly debts of the borrowers, divide it by their monthly, and multiply it by 100 to calculate the FOIR. If you are looking to avail of an ideal personal loan, it is important that you analyse and monitor your FOIR to maintain it within acceptable levels.
FAQs:
Q.1: How can I reduce my FOIR?
Ans: You can reduce it through timely repayment of loans and fulfilling other financial obligations.
Q.2: How is FOIR calculated?
Ans: FOIR is the total of all your existing debts divided by your net monthly income and multiplied by 100.