Factors That Determine Your Approved Business Loan Amount
A business can grow and sustained with the help of business loan. Read to know more about the factors that determine business loan amount.
2 Nov,2022
06:13 IST
7 Views
4 Likes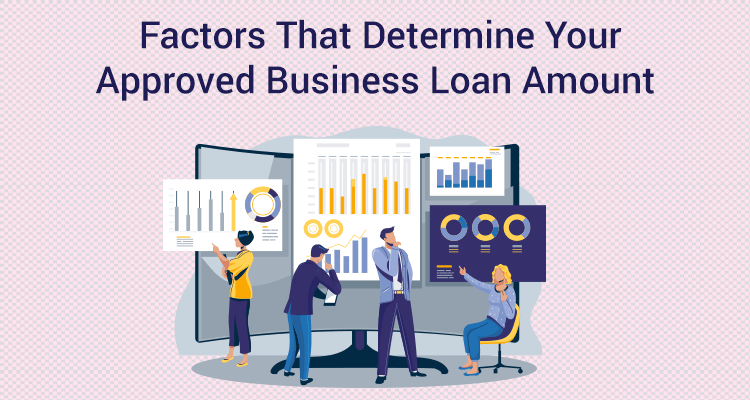 A business can expand and be sustained with the help of business loans. However, no two firms are comparable, so estimating one's financial needs based on another would be incorrect.
The loan amount is determined by the specific financial objectives and business ambitions. The quantity of cash needed for a business is also determined by a wide range of factors.
Here are some of these factors:
Credit Score:
The first factor that lenders look at when evaluating a loan application is the credit score. It represents the borrower's creditworthiness based on personal credit history and past debt repayments. The higher the score, the higher amount the borrower is likely to get.
High credit score applicants are viewed as low-risk borrowers. Excellent credit not only makes it easier to obtain the required loan amount from the chosen lender, but it also results in cheaper interest rates.
Cash Flow:
Lenders keep a close eye on the anticipated cash flow to evaluate a company's financial situation. After all expenses have been paid for, a business' cash flow determines the amount of money that will be left over to repay the loan. Positive cash flow indicates that the business is making more money than it is spending.
Negative cash flow brought on by decreased profitability, weaker seasonal demand, excessive investment, high overhead costs, overstocking, and inadequate financial planning can lower the chances of a lender giving a loan.
Business Plan:
By creating a credible business strategy, borrowers can persuade a lender that the requested loan amount is necessary and they have the means to repay it.
Business owners are required to create a thorough business plan outlining the loan's purpose, the company's objectives, and how the loan will be used to achieve those objectives. Steps for loan repayment should be included in a company plan.
Collateral:
If a company's founders can provide some sort of collateral, such as real estate, business merchandise, fixed deposits, bonds, vehicles, and equipment, they may be able to get the required loan amount.
If the borrower fails on a loan, the collateral serves as a guarantee allowing the lender to claim the asset.
Soundness Of Business:
Lenders favour companies that have established themselves over time. Additionally, certain enterprises are riskier than others. The lender might not agree to provide the whole loan amount needed to operate a riskier firm.
Current Liabilities:
A sizable amount of outstanding debt could be an indication that the business owner won't be able to make the required monthly payments in the future.
The terms of business loans can also be impacted by a number of outside variables, such as inflation and the nation's monetary policies.
Conclusion
The conditions of the business loan are determined by a combination of internal and external factors. It may seem challenging to secure a loan with favourable terms, but borrowers can take a number of actions to increase their chances of getting a loan.
In order to get the loan they want, a borrower may need a high credit score, a solid business plan, a sizable down payment, and adequate collateral.