Effects Of Gold Loan On Your CIBIL Score & Credit Report
A gold loan is a secured loan against your gold jewellery or gold products. Read to know how gold loan can impact your cibil score.
12 Oct,2022
12:02 IST
3 views
7 Likes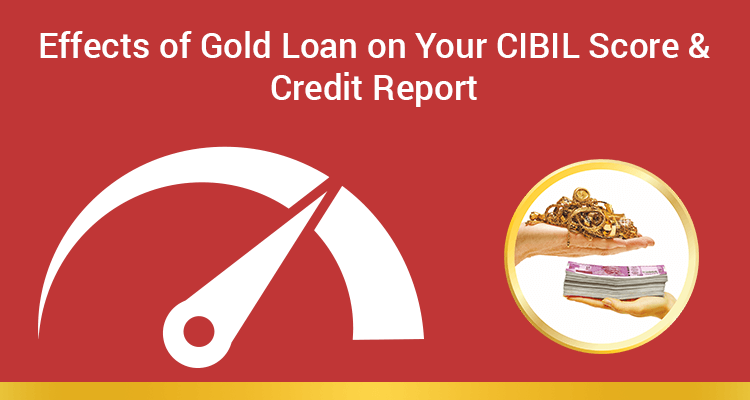 A gold loan might be one of the simplest and most effective ways to borrow money when one is short on cash and needs money right away, whether for a personal necessity or for a corporate need.
In essence, a gold loan is a secured loan in which the borrower offers household gold jewellery or coins as collateral for a loan from a bank or a non-bank lender.
A gold loan is relatively simple to apply for, and most lenders now provide online application completion as an option.
The best thing about a gold loan is that the borrower's credit profile is irrelevant as long as the quality of gold given as security satisfies some minimal requirements set forth by the lender.
This means that a person can still be approved for a gold loan even if their credit score is below average.
A borrower's credit score, also known as their CIBIL score, is essentially a three-digit figure produced by private, independent companies like TransUnion CIBIL, Experian, and Equifax after examining their prior borrowing history.
The CIBIL score goes from 300 (the lowest) to 900 (the highest). A higher score indicates that the borrower has a strong ability to repay and a solid credit history. A lower score, on the other hand, indicates a bad repayment history and alerts the lender that it may be risky to approve a loan for that person.
How A Gold Loan Affects CIBIL Score
When a borrower takes out a gold loan, it may have a positive or negative effect on their CIBIL score.
A gold loan is a type of personal loan, and as such, it may negatively impact the borrower's CIBIL score in the event of a default or a delay in making principal or interest payments.
The borrower's CIBIL score will suffer if they fail to pay back the gold loan and interest on schedule. On the other side, if the borrower makes timely payments, their CIBIL score may rise.
So, does obtaining a gold loan help one's CIBIL score? Yes, if a borrower pays off their gold loan on time, their CIBIL score will rise over time.
A borrower with a low credit score will benefit from timely repayment. If they continue making payments on time, their CIBIL score will gradually increase.
Conclusion
A gold loan is one of the most convenient forms of borrowing, and often the most prudent as it utilizes idle gold jewellery lying at home to meet cash requirements for either a personal or even a business purpose.
Banks and non-banking finance companies do not use the CIBIL score to decide on a gold loan application. In other words, CIBIL scores do not impact a person's ability to avail a gold loan.
However, the repayment pattern of the such loans does have an impact on the credit history of the individual. So, borrowers should repay the loan on time to improve their CIBIL score. This will help borrowers to get a bigger loan, better interest rates and easier repayment terms for any loans that they may seek in the future.