Don't Have Insurance? Here's How A Personal Loan Can Help
A personal loan is popular because of its nature of easy availability and usage. Personal loan can be use to pay for the medical expenses. Read to know how personal can help if you don't have insurance.
18 Oct,2022
12:46 IST
2 views
10 Likes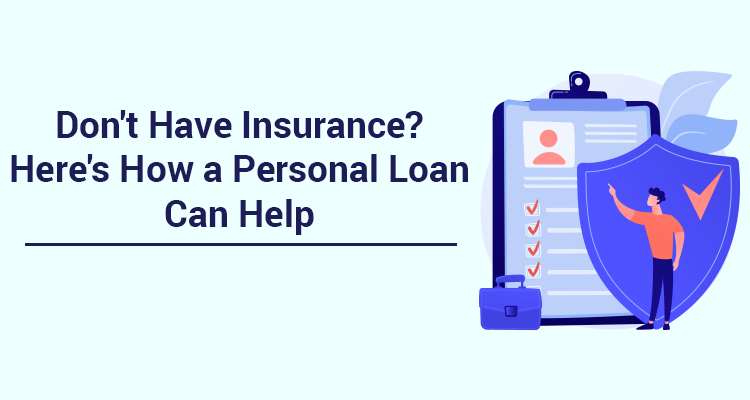 Health emergencies can strike at any time, and they are often expensive. If you don't have health insurance, it can take a toll on your finances.
Fortunately, personal loans from banks and Non-Banking Finance Companies (NBFCs) can assist in paying for such medical expenses in times of need. This article explains how a personal loan can help during health emergencies if you don't have insurance.
Why Opt For A Personal Loan For A Medical Emergency?
1. Quick Approval And Disbursal
Personal Loans are known for their quick disbursals. Medical emergencies require rapid access to funds. In such a scenario, you can apply for a personal loan to help you with additional funds to tackle the medical crisis.
2. Treatment At Any Hospital
When you want to get treatment with health insurance, you need to verify whether the hospital is on the insurer's panel. However, as you receive the necessary liquidity through a personal loan, you can skip the verification and seek treatment at any medical institution. You can pay for the treatment with the loan amount.
3. Flexible Repayment Tenor
Personal loans allow you to choose a repayment term that suits you. The loan tenure typically ranges from 12 to 60 months. Analyse your needs, consider your income, and determine the time it would take for you to repay the loan.
4. All Medical Procedures Are Available
Many insurance policies do not cover specific medical procedures. With a personal loan, you can get any treatment for you or a family member might need without worrying about funds. You can execute the necessary treatment without restriction from the financial institutions.
5. Minimal Documentation
Obtaining a personal loan does not require submitting many documents. To get a loan, you must provide proof of your identity, income, and information about your business or job. With a personal loan, minimal documentation helps you concentrate on the medical treatment.
6. Protect Your Life Goals
The primary purpose behind investments and savings is to achieve your life goals. During a medical emergency, however, you may need to access your savings to pay for it. A personal loan may be the ideal avenue to secure your savings and protect your long-term life goals.
Acquiring a personal loan for a health emergency can be a lifesaver since it offers many benefits. Make sure to borrow the specific amount that meets your requirements. After all, it is a loan, and you need to repay it with interest.
FAQs
Q1. What is the advantage of a personal loan over medical insurance?
Ans. Lenders provide medical loans specifically to help tackle when medical expenses. In this case, you get financing to fund your treatment that you must repay with interest during a particular tenure.
Health insurance requires you to pay an amount (premium) annually or monthly and works as a form of protection before a medical emergency strikes. Even if you don't use your health insurance once, you may pay premiums all your life.
Q2. How fast can you get a personal loan for a health emergency?
Ans. A loan disbursement takes place within 24 hours of approval and verification of the documents.