How Does Losing A Job Can Impact Your Credit Score?
Credit score is considered an important an factor when applying for a loan. Does losing a job can impact your credit score. Read to know now.
18 Nov,2022
18:45 IST
4 views
19 Likes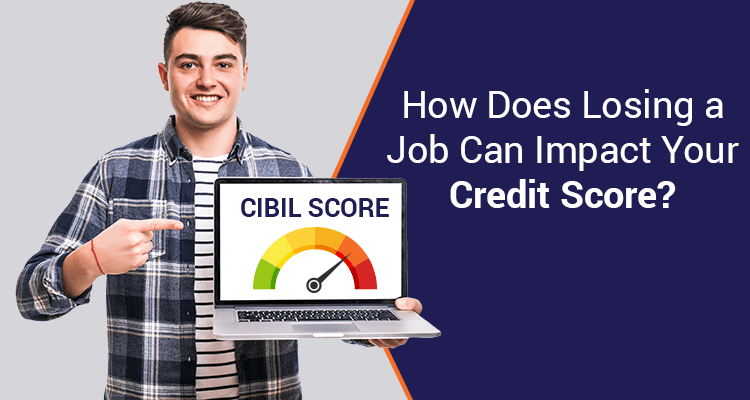 Financial independence empowers you to fulfil your dreams, live an affluent life, and revel in success. However, losing your job can create turmoil at personal and professional levels. As sudden layoffs disrupt your income flow, they increase the chances of negative consequences on your credit score.
Though your credit report does not provide information about your employment status, it relies on various essential factors that indirectly depend on your job availability. For example, the credit report considers your repayment history, lending frequency, defaults, etc. Losing a job means no income flow, resulting in disrupted loan repayment.
Does Your Unemployed State Affect Your Credit Score?
Credit scores are a pre-requisite for lenders to assess your potential as a credible borrower. While a good credit score of 750+ can help you secure a low-interest loan, a poor credit rating of 600 or below can make you a high-risk client in the eyes of top-rated lenders. In India, the Reserve Bank of India grants four elite institutions the right to provide credit ratings to loan-takers.
Credit rating agencies do not reflect your employment status in your credit report. But this does not imply that lenders remain aloof to your job profile when analysing your credit history. On the contrary, a secure job is a potential guarantor, vouching for your credibility with lenders. A steady income flow shows your capability of paying interest and EMI amounts at the pre-defined schedule. However, if you're unemployed, your inability to repay and default on payments affects your credit score negatively.
How To Improve Your Credit Score After Losing Your Job?
• Punctuality In Bill Payment
A well-planned bill payment schedule can help you raise your credit score quickly. You can pay your loan installments and credit card bills on or before the due date to prove your creditworthiness.
• Reduce Your Debts
Clearing your debts is one of the most viable solutions for improving your credit score. You can lower your loan amount, credit card bills, etc., to have a clean credit report. If you have savings, use them to foreclose on lesser loans to reduce interest costs.
• Analyse Your Credit Report
Regular checkups of the report can help you understand your credit health, repayment patterns, and market position as a borrower. Routinely, you can find loopholes in your loan management tactics and resolve them before they worsen. As a general guideline, check your credit report and score approximately every six months.
Conclusion
While various factors play a role in deciding your eligibility for a loan, credit score remains one of the essential catalysts in this regard. Though your employment status does not directly affect your credit score, it has a significant role in assessing your credibility on various parameters. In addition, financial lenders prefer to give loans to customers with a stable income flow to avoid risky lending. So, if you plan to take a loan soon after facing a layoff, ensure you have a good credit score.
FAQs
Q1. What is the CIBIL score?
Ans. The CIBIL score is a credit rating provided to customers by the Credit Information Bureau (India) Limited. With a scale range of 300 to 900 credits, the CIBIL score ranks borrowers based on their credibility.
Q2. Can your credit score affect your job search?
Ans. Yes, your credit score can sometimes affect your job search. Firms dealing with finance, securities, insurance, etc., would likely check your credit history before offering you the job.