Difference Between Cash Credit & Overdraft
Cash Credit and Overdraft both are used to meet cash requirements, but there are certain distinction between them. Read to know more about the differences between Cash credit and Overdraft.
19 Oct,2022
11:59 IST
9 Views
14 Likes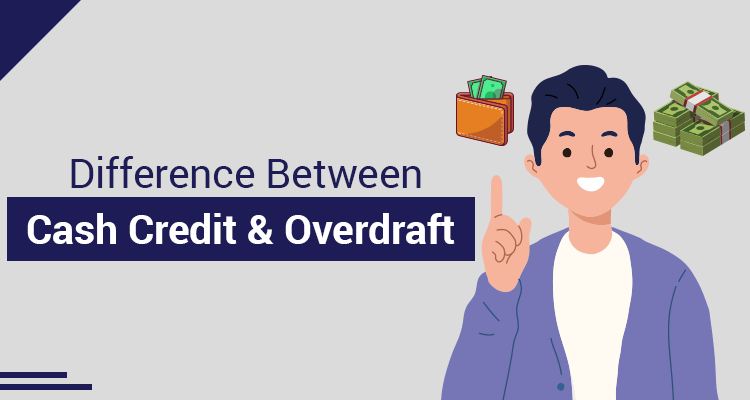 Whether a small entrepreneurial venture or a big corporate one, the constant need for funds is inevitable. A steady capital flow helps keep everyday activities moving while strengthening future expansion prospects. However, unforeseen losses disrupt business activities. Entrepreneurs resort to loans from banks and other lending institutions during such financial crunches.
Typically, there are two types of loans: long-term and short-term.
Long-term loans help support larger company endeavours like expansion plans, whereas short-term loans help to meet the working capital requirements. Issuing shares, debentures, and bank loans are common ways to acquire long-term capital. However, business owners depend upon cash credit (CC) and overdrafts (OD) to cover short-term expenses.
While CC and OD are alike, there are a few distinctions. Both options have different purposes, making them unique.
What Is Cash Credit (CC)?
Cash Credit is a short-term loan facility that covers the immediate money requirements of business owners. Under CC, the borrower deposits an asset as collateral to acquire cash from banks. Stock, shares, and property are common assets pledged as collateral. There is no fixed limit on the transactions allowed from a cash credit account.
CC enables owners to withdraw money over and above their account balance up to a pre-decided credit limit. The maximum tenure for cash credit is 12 months. When business entities opt for a cash credit facility, banks ask them to open a separate bank account. Only the amount withdrawn from the account attracts the interest liability.
Eligibility Criteria For Cash Credit:
• Good credit score
• Collateral type
• Current assets and liabilities of the entity
• GST filing, P&L statement, and balance sheet required
What Is Overdraft?
Under the overdraft facility, financial institutions allow customers to borrow funds up to a predetermined limit whenever their account balance falls to zero. The authority charges an OD fee on the amount withdrawn from the overdraft account. Overdraft helps individuals to meet their immediate cash requirements during financial turmoil.
When borrowers draw money from the OD account, they increase their outstanding balance. However, on repayment of the loan, the unpaid balance reduces. Borrowers can pay the amount lent in part or whole.
Eligibility Criteria For Overdraft:
• Good credit history
• Type of investment held in the bank
• Account type
Key Differences Between Cash Credit And Overdraft
| | | |
| --- | --- | --- |
| Factors | Cash Credit Loan | Overdraft Loan |
| Borrowers | Specifically available for businesses. | Available for both businesses and individuals. |
| Objective | It is a working capital loan. | It helps to fulfil short-term cash requirements. |
| Criteria | CC loans depend upon the position of assets and liabilities of a firm. | An applicant's credit history and relationship with the financial institution determine the OD approval. |
| Interest | The interest rate charged on CC is lower than OD. | The OD charges are slightly higher. |
| Account | Banks open a new account for CC loans. | Processed on the existing accounts. |
| Tenure | The repayment period is up to a year. | Borrowers can pay monthly, quarterly, half-yearly, or yearly. |
| Sanction Amount | In CC, the loan amount does not reduce with time. | In OD, the loan amount reduces monthly. |
Cash credit and overdrafts are the two most common financial tools for meeting short-term requirements. While CC and OD are cash loans, they vary widely on various parameters such as interest rates, tenure, etc. Thus, it becomes the business owner's duty to analyse and compare both options before choosing.
FAQs:
Q1. What is the rate of interest for OD?
Ans. The OD fee charge is different for each bank. Generally, banks charge a rate of interest between 9.5% to 18.5% on OD.
Q2. Do financial institutions charge processing fees for OD and CC loans?
Ans. Yes, financial institutions charge a certain amount as processing fees for OD and CC loans.