Crowdfunding or Business Loan – Which Is Better?
From crowdfunding to business loans, number of options are available for business financing. Read to know which option is better for your business.
1 Nov,2022
12:51 IST
6 views
46 Likes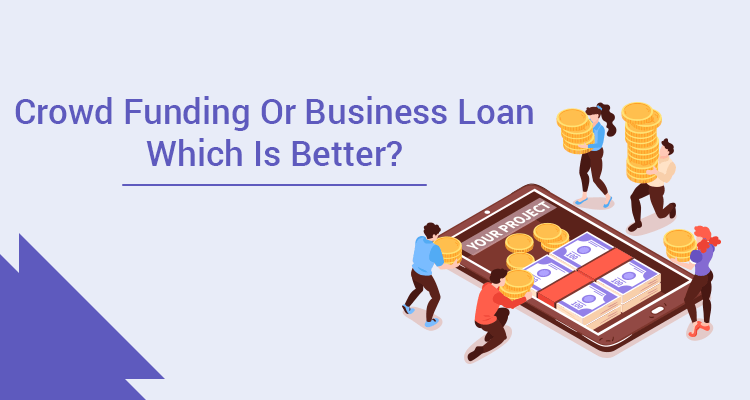 A capital investment, no matter how big or small, is needed for financing a business. Only through sound capital structure can the business guarantee constant inflow of cash.
A business entity needs financing from the start. Financial support can help modernise machinery, expand business, tap new markets, transition into efficient technologies and allow the organisation to experiment with new ideas. Needless to say, a strong financial backup is essential for any business to succeed.
The conventional way of funding a business is taking out a business loan from banks or non-banking finance companies (NBFCs). A more recent method to raise capital is crowdfunding.
What Is Business Loan?
A business loan is essentially debt approved by a bank or an NBFC to a business for any purpose such as working capital, buying equipment or for long-term expansion for an interest and for a fixed period. These loans are, at times, against a collateral but small-ticket loans are also offered without any security.
The business loan is sanctioned by the lender based on the borrower's credit score, potential of the business, cash flows and business plan. Loan repayment is in monthly instalments till principal and interest are repaid. Penal interest will be charged on defaults.
What Is Crowdfunding?
Crowdfunding refers to a method of funding a project or venture through small amounts of money raised from a large number of people, typically through a portal or social networking site. It is a creative method of obtaining finance for new ventures or ideas. It is often used as a means of creating a network of support for a product or service. It is also a great way of cultivating a community around the core offering of the business.
A wide variety of not-for-profit organisations, entrepreneurial endeavours, including artistic and creative ventures, have been funded by crowdfunding.
Funds are collected by the crowdfunding platform that hosts the campaign. Campaign guidelines vary on different platforms and credit scores are usually not considered for fundraising. Platforms charge a one-time, percentage-based fee upon the disbursement of funds. Repayment will be based on pre-agreed terms. In many cases the money need not be returned at all, but in some cases the money could be akin to an advance payment for a product or service that the business is providing.
While crowdfunding for social causes, education and medical treatment are legal in India, the law is a bit hazy on the rest. The Reserve Bank of India regulates peer-to-peer lending. P2P lending is a form of crowdfunding used to raise loans which are paid back with interest. Equity-based crowdfunding is, however, illegal. So, crowdfunding for startups has to be through P2P or donation-based funding.
Conclusion
Crowdfunding offers flexibility to borrowers as the lenders or donors are not bound by the guidelines of the RBI. Unlike business loans, crowdfunding can allow the borrower to structure the loan in innovative ways. Also, crowdfunding could be better for new ideas, which traditional lenders may find difficult to lend to.
However, crowdfunding has its limitations. The success of the crowdfunding campaign is not guaranteed, and it can take a long time to collect the money required. And then there are certain regulatory restrictions, too.
So, for greater certainty or to meet a large capital requirement, a business loan from a bank or an NBFC is a better option. Most banks and NBFCs sanction both unsecured and secured loans for a variety of purposes through an easy and hassle-free process that is often fully online and can be completed within a few days.