Importance Of Credit Score For Business Loan
A business loan can prove to be useful to overcome financial shortage and run business smoothly. Read to learn more about importance of credit score for a business loan.
28 Sep,2022
10:24 IST
7 Views
29 Likes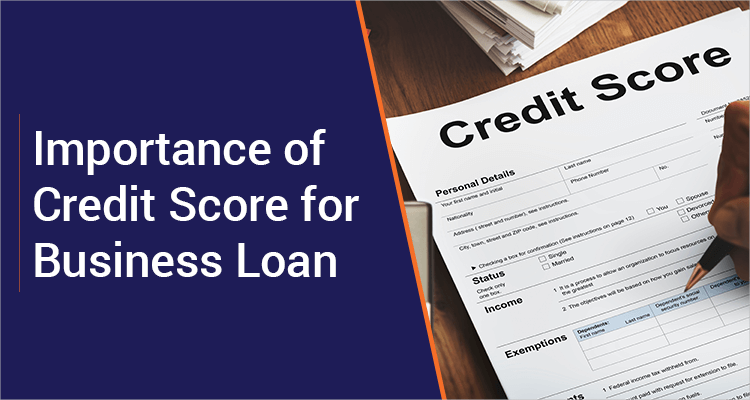 Availing a business loan can be tricky. Like most loans, the first thing lenders ask before you apply for a loan is, "what is your credit score?" This article will teach you the importance of credit scores for business loans.
What Is A Credit Score?
A credit score refers to the three-digit numerical score derived from your credit history via the Credit Information Report (CIR). Typically, the score ranges from 300 to 900, with 900 or closer considered the best. It is also popularly known as the CIBIL score.
How Important Is Your Credit Score For Business Loans?
Your credit score plays an integral part in sanctioning your business loan. A good credit score of 750 or above can help you in the following ways:
• Improves Creditworthiness:
A good credit score demonstrates the credibility of your business to pay off your debt on time.
• Easy Loan Approvals:
A good credit score creates a lesser hassle for your company to avail of a loan. It makes a loan's approval quicker and with lesser scrutiny.
• Competitive Interest Rates And Loan Terms:
A good credit score reflects a borrower's ability to make timely repayments, and companies with good credit scores can negotiate loan terms.
• Higher Credit Limit Access:
A good credit rating is directly proportional to your authorised credit limit. Companies with good creditworthiness have access to higher loan amounts. Access to higher limits means more funds to cover operating expenses and invest in growing your business.
How To Maintain A Healthy CIBIL score?
To maintain a healthy CIBIL score you must first know the factors affecting your CIBIL score. These factors include
• Repayment history
• Pending dues
• Credit period
• Number of loans taken in a period including the queries
• Types of loans availed
Understanding the factors that affect credit scores can further assist individuals in making informed decisions about how to maintain a healthy CIBIL score. Some tips to stay ahead of your credit game are:
• Purchasing small electronic products based on EMI
• Apply for a credit card at your bank
• Avoid late payments of any kind
• Avoid taking out multiple loans at once
• Have a good loan mix (balance between secured and unsecured loans)
• Check CIBIL reports to eliminate inaccuracies
Applying for a business loan can be a tedious process. It is further challenging to get this loan approved quickly and easily. But shining a light on something as significant as the CIBIL score could help individuals and businesses quickly secure their financial needs and meet them when they arise.
Frequently Asked Questions
Q.1: How can you check your CIBIL score?
Ans: You can check your credit score on CIBIL's official website by following the below steps:
• Create an account with your basic details
• Verify your identity
• Enter OTP to complete the process
Q.2: What is the typical duration to approve of a business loan?
Ans: The approval duration varies from one lender to another. The loan process is entirely online for many financial institutions, and the approval can take anywhere between 30 minutes to 48 hours.