Consolidate Your Debt With Personal Loan
The term personal loan is familiar to people to meet their unexpected financial need. Read to know what is debt consolidation and how it can be useful.
7 Oct,2022
17:02 IST
5 Views
5 Likes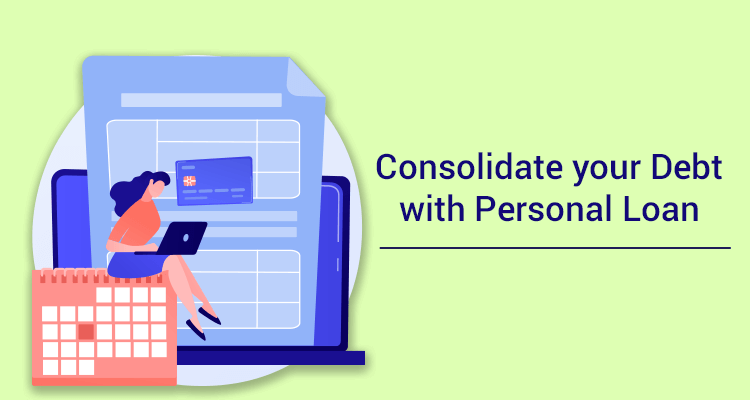 The burden of debt on any individual can be immense. And the burden is even heavier if one is weighed down with the responsibility of repaying multiple debts. While it isn't easy to handle multiple debt obligations, consolidating the entire debt amount with a single loan can help to streamline things.
A personal loan is a convenient financing solution that can be used for any purpose. Lenders are not concerned with the end-use of the money, and consequently there is no restriction on how to use the money. It can be used to start a business or cover wedding expenses and even to pay off multiple liabilities and consolidate all debts.
What Is Debt Consolidation?
Debt consolidation is the process of taking out a new loan to pay off multiple debts with more favourable repayment terms. Essentially, it is a process of transferring a borrower's multiple loans to a new, single loan.
How Does A Personal Loan Help To Consolidate Debt?
Consolidating loans and other liabilities through a personal loan is convenient and easy. Here are a few reasons to understand why personal loans are beneficial for consolidation of debts:
• Fixed Repayment Tenor:
Lenders usually offer borrowers a flexible repayment tenor of one to five years. But borrowers may face difficulties in managing multiple loans with different repayment periods. A single loan with a fixed tenor can make repayment easier.
• Quick Disbursal:
The approval and disbursal process for a personal loan is simple and quick. As with documentation, it requires basic KYC documents and financial statements for verification. For online loan applications, borrowers need to upload the scanned copies of the documents.
• Collateral-Free Loans:
The loan application process is simple and there is no need for the borrower to pledge any of his assets as collateral. This is an advantage for borrowers who do not have any tangible assets.
• Competitive Interest Rates:
Another advantage of consolidating debts is that a single loan may help the borrower to get a more competitive interest rate rather than paying off interest on multiple rates. Every potential borrower must meet the eligibility criteria to qualify for a personal loan, especially if the loan is being taken from a new lender. Though personal loans come with attractive interest rates, a good credit score can help the borrower to negotiate for a higher loan amount and lower competitive interest rates on the loan.
Does Debt Consolidation Affect The Credit Score?
Consolidating the existing loans into a new one may have a negative impact on the credit score initially. It also increases the debt-to-credit utilization ratio since it reduces the total amount of the credit available.
However, timely payment of EMIs and clearing off the dues as per the new loan agreement helps to improve the credit score in the long run.
Conclusion
Managing a high number of loans through a single loan is one of the most common uses of personal loans.
A debt consolidation loan is the most appropriate choice if a borrower is struggling to keep track of multiple loans, varied interest rates and repayment schedules. A single loan that consolidates multiple existing loans will streamline repayments, reduce interest costs and make it easier for the borrower to avoid defaults.