How To Compare Different CIBIL Score Range?
Cibil score is one of the popular parameters to check the borrowers repayment history. Borrowers are placed in different category based on their repayment credibility. Read to know more about different cibil score ranges.
17 Nov,2022
11:18 IST
4 views
81 Likes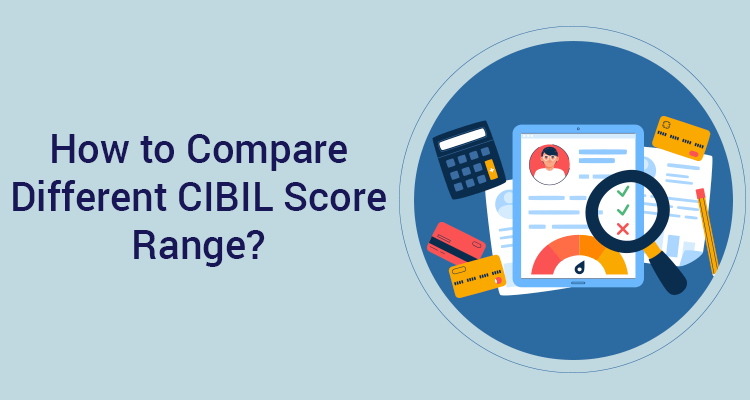 The CIBIL score is one of the most popular parameters that help place loan-takers into distinct categories depending on their repayment credibility. Though the Reserve Bank of India allows four entities to give credit ratings in India, the Credit Information Bureau India Limited (CIBIL) scores unanimously thrive as the most trusted one amongst lenders across the country.
The 3-digit CIBIL score comprises a ranking system with a range between 300 to 900 in ascending order of creditworthiness. Below is a quick interpretation of the CIBIL score range to help you understand the rating system easily.
| | | |
| --- | --- | --- |
| CIBIL Score Range | Prospect | Inference |
| 800 and above | Excellent | It is the top-most range and shows the highest credibility level for a customer. |
| 700 to 799 | Good | This range highlights the responsible repayment behavior of the borrower. |
| 600 to 699 | Average | In this range, borrowers with late interest payments, faulty credit behavior, etc., are placed. |
| Below 600 | Poor | Those falling in this range are considered risky debtors by banks and financial institutions. |
Salient Features of Each CIBIL Score Range
• Range Of 800 And above
If you are placed in this category by CIBIL, your efficient loan management has helped you become a part of the most coveted range of the CIBIL rating. It indicates that you have paid all the loan installments (including interest) and credit card bills within or before the stipulated time frame. You can quickly get a loan from any financial institution of your choice at low-interest rates with a CIBIL score of 800+, proving your creditworthiness.
• Range Of 700 To 799
The range between 700 to 799 is considered 'good' by financial lenders. It shows that you are managing your EMIs and interest payments considerably well. Most of the borrowers fall in this category. Though it is an impressive credit range, it shows room for improvement for borrowers willing to shift from the good range to the best range.
• Range Of 600 To 699
This range depicts an unhealthy credit system. Typically, financial institutions keep a sceptical approach toward customers falling in this CIBIL score range. While some lenders might accept this credit score, most can restrain from offering loans. To avoid further damage to your credit score, you must stick to the timely payment of loan instalments and credit card bills. You can pay advance interest or repay the principal before the stipulated tenure to improve your CIBIL score.
• Range Below 600
CIBIL scores below 600 involve high-risk elements for the financial lenders. This category is the 'poor' credit range involving borrowers with the slightest credibility. The customers in this range have committed subsequent defaults in loan interest, EMI, or credit card bill payments. Financial institutions do not offer loans to such high-risk clients. If you are in this category, you must take strategic steps to push your CIBIL score.
Conclusion
Different institutions have different parameters for judging you based on your CIBIL score. However, a score of 750+ can quickly help you fetch a substantial loan at competitive interest rates. Thus, if you plan to apply for an unsecured loan, ensure you have a high CIBIL score, proving your creditworthiness to the lenders.
FAQs
Q1. What are the crucial factors that affect your CIBIL score?
Ans. Some of the essential factors affecting your CIBIL score are
• Faulty payment routine
• Multiple Debts
• Payment of only the minimum principal amount due on loan
• Multiple hard inquiries in credit report
• Lengthy credit history
• High credit utilisation ratio
Q2. How can I get my CIBIL score?
Ans. You can visit and apply for your CIBIL score on the platform's official web portal. Fill in the application form online by giving basic details like your name, DOB, ID proof, address proof, contact, earlier loan agreements, etc. The portal will ask you to pay a nominal charge before authenticating your details and providing you with your CIBIL score.